Purple Diesel: All-day Pain Medication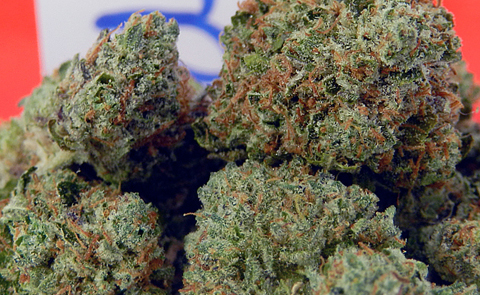 Classified as a hybrid, the Purple Diesel strain genetics can be traced back to the combination of Purple Kush and Sour Diesel.
Purple Diesel is known to relieve headaches, migraines, stress, anxiety, and chronic pain without the heavy/tired feeling associated with most other hybrid strains.

"If you like the Diesel strain, you should note that Purple Diesel has very similar cerebral effects, with more of a full-body high."
These compact buds will make you feel very relaxed at the core but at the same time very uplifted and up-beat; perfect for medicating with during the day. The kush in this strains genetics make it the perfect combo for patients seeking a powerful pain relief that won't make them exhausted.
Visually these Purple Diesel buds are extremely dense and delicate; covered from top to bottom in sparkling white trichomes. A few rare patches of purple can be seen but this batch is mostly green with thick orange hairs.
The smell of Purple Diesel reminds us of earth, diesel gas, and lavender. This medical marijuana strain definitely comes recommended to other MMJ patients who are fans of Strawberry Diesel, NYC Diesel, Sour Diesel, and Blue Diesel.
FOOD AND DRUG ADMINISTRATION (FDA) DISCLAIMER - These statements have not been evaluated by the Food and Drug Administration (FDA). These products are not intended to diagnose, treat, cure, or prevent any disease.