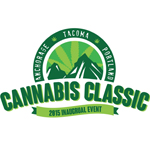 About this Event
The primary goal of the NW Cannabis Classic is to contribute to the promotion and development of the local cannabis industry throughout the Northwest.
The NW Cannabis Classic is a series of cannabis competitions and trade fairs taking place in 3 Northwest cities. The NWCC offers a world-class cannabis experience celebrating cannabis culture and NW growers while building the industry in 3 states where recreational cannabis is now legal.
The first stop is Anchorage, Alaska in May, 2015.
The second stop is Tacoma, Washington in August, 2015.
The last stop is in Portland, Oregon in November, 2015.
The competitor's entry with the highest overall score after the culmination of all three events will be crowned the "Canna-Best-of-the-Best of the Northwest"!
Exciting events include:
– Cannabis competition
– 100 + Vendors
– Local and International live music acts
– Expert speakers, demos, classes
– Medicating area with dab bar (where laws allow)
– Vapor lounge
– Much more!
You can learn more about the event at their website: http://www.nwcannabisclassic.com/.