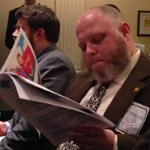 Biography
David Kowalsky, CEO of 7LEAF Consulting, holds a Master's in Computer Science and Psychology from Johns Hopkins University, as well as a Doctorate in Psychology from Bridgewater University. David understands the importance of education, as his grandfather instilled that in him at a young age.
In 1995, Kowalsky co-founded Business Creations, a printing company that provided business cards, stationary, and letterhead to local businesses in Maryland. Although the company was doing well they decided to widen their reach, expanded their services to a full service promotional advertising and marketing company and Ad-Ideas was born. Obtaining contracts with state agencies, such as the Maryland Lottery, Maryland Department of Education, BWI Airport etc. Ad-Ideas became the primary source for the State of Maryland's promotional and marketing materials. They completely reformatted the company, turning it into a full-service advertising agency offering everything from printing to marketing to network media ad placements. Ad-Ideas began frequenting national and international trade shows to further develop their company and obtain relationships with clients such as Michael Baker Corporation, Booze Allen & Hamilton and the Whiting Turner Construction Company, just to name a few. The company's net worth went from 48K to 3.6 million in just 1.5 years, but in December of 1999 Kowalsky had other plans and decided to sell Ad Ideas.
Kowalsky decided to invest in the adult entertainment industry and bought a gentlemens club along with opening several adult novelty stores in one of Baltimore's most famous tourist neighborhoods. Kowalsky's unique business-like approach led him to start a satisfaction guarantee on all of the products sold. Although this made customers happy, Kowalsky realized it wasn't environmentally sound and started an unheard of movement: green sex toys. He got in touch with companies that recycle materials such as silicone and small motors that agreed to work with him on this unique endeavor. Not only did his novelty stores accept returns but they also sent the products to be taken apart, melted down and reconstituted into new toys. In 2010, this became an industry standard and their story made it onto the cover of Rolling Stone magazine. Once again, with the drive to keep moving on, Kowalsky sold his ownership of the gentlemens club and adult novelty stores and decided to fully dedicate his work to a prevalent social cause: the advocacy of marijuana.
In spring of 2009, Kowalsky formed the Cannabis Information Network (CIN) in an effort to inform the misguided public regarding all aspects of the marijuana industry. Utilizing his background in advertising, marketing and public relations, Kowalsky was able to brand CIN and use modern platforms to get the message across. CIN used social media and an Internet radio show, Cannabis Network Radio (cannetradio.com), to reach over four million people each week. With his efforts, Kowalsky created one of the largest direct action advocacy organizations for the legalization of marijuana in the United States. CIN made waves by organizing rallies and displays of civil disobedience, all focusing on public law.
The successful reach of CIN and Cannabis Network Radio has enabled Kowalsky to blend his background in marketing with his strong belief of marijuana advocacy, and he has since created 7LEAF Consulting. Their mission is to provide true consulting to the cannabis industry that is relatable to all the emerging cannabis markets. 7LEAF has an out of the box approach when it comes to their potential clients. They look at the individual needs of each client as well as identify the strengths, weaknesses, balances, and projections while relating them to the group as a whole. 7LEAF tailors its client's plans, build outs, structure, marketing and advertising to the state specific guidelines and regulations. Creating awareness, education and complete compliance for our clientèle.
7LEAF still has a focus on advocacy, planning events, calls to action and informing the misguided public, but now they introduce new groups under their umbrella. Aside from complete seed to store consulting, 7LEAF will offer cannabis education on a wide array of products, cannabis food as well as special accouterments, and cannabis itself. 7LEAF gets their messages out through their affiliates with digital media as well as broadcasting messages on a variety of media networks. 7LEAF now works out of their corporate office in Denver, CO and plans to expand their reach even further by taking their message on the road with the "Weed Not Greed" tour in spring 2015. The tour will be making stops in most major cities, "promoting education about marijuana/hemp uses and advocating for the legalization of marijuana."
David Kowalsky proves that when you are educated and passionate in what you believe, you can spread messages of truth and be an inspiration for all.