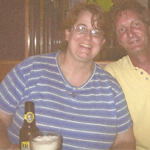 Biography
Mark's interest in cannabis began at age 15, which is interestingly when his adolescent onset Cystic Fibrosis became active (but this would remain unknown until 2001 and confirmed in 2010). At a younger age he was exposed to cannabis, but had a great dislike for the herb until this onset which he felt was akin to getting used to the taste of beer and not related to any disease process.
During his later-in-life education to become an administrator (as he could no longer tolerate 16 to 24 plus hour shifts) he discovered that he had never been a recreational user. He accessed and compared his full medical record against his honest drug use and discovered a life-threatening event each time he stopped using cannabis. Had he been a medical prevention patient all these many years?
Mark set upon subjective research to discover if others had experienced these effects as he had already treated Brain Injuries very successfully in the 1980s. A close friend and client experienced an aneurism at work, miles from any hospital. He was not expected to survive, but when Mark treated him with cannabis (an extremely potent form of his own breeding) he quickly improved enough to go home. At home, Mark continued treatment and soon he was able to return to work. The same was true for a concussive patient struck with a severe weight giving him severe seizure affect of multiple events per day. Mark had even greater success treating this client, but he still was not sure of cannabis as a medicine as in the 1980s and '90s the CNS was all that we knew of cannabis' affects, so it was considered by him to be a drug induced and potent relaxation. So, some years later, he solicited all forms of social media to discover if anyone had his very same medically preventative disease morphologies. He was shocked, he rendered a guess that 85% or more reported exactly what he had experienced. Unless they began use after catastrophic disease had struck. His team must know what draws one to cannabis. It was not the effects, he didn't smoke it, and that was what brought him to the discovery of terpenes in the synergy of cannabis' medical effects, medicine had been using cannabis backward. Why are there so many fragrant attractants? Would one attractant not be sufficient? Then it struck him and his collegiate team, we have so many diseases that some 200 or so terpenes are likely doing triple to quadruple duty.
His history in medicine began as an Associate equivalent in Psychiatry and institutionalized client rehab. As he was very successful in research, and his work, he became certified in areas of medicine, including rehab and pharmacology. In his pill-passing he noted these folk the facility was returning to society were drooling zombies. A policy he soon changed with his friend and CEO of the facility, against the strong recommendation of the Chief Nurse. He had two important papers published as a sophomore that changed policy. One on Native Hallucinogen Use which changed the wording in some Psychology texts, and one on a client's suicide (re-hospitalized by order of the Chief Nurse who felt this client needed EST and potent medication changes in direct opposition to all daily activity notes Mark had posted) that became required reading for all pre and post graduate students of psychology and psychiatry in Iowa the families were compensated by the host hospital and the "chemical leash" chief nurse, later discovered to be a lesbian sexual predator.
After a serious accident he attempted to go back to the university, but his immobility after refusing the amputation of his leg brought him to a former Army doctor/professor who recruited him into an injured student research program as a knowledgeable student talented in research. In this program the team disproved many of the government myths concerning cannabis. After he helped in this research he was forced to return to the farm where he began a collective of growers working with California grower's and seed stock. He set-up the rules and the magical group that came together were able to provide services that modern growers have forgotten. His electricity use went down, not up, there were no odors in the form of shallow well venting used, and they used an almost forgotten flower cloning method which gave them a greatly increased yield per mother plant. They had the support of Jorge Cervantes and Ed Rosenthal who would write his emerging domestic cannabis provider collective, or publish their questions in High Times and after six farm saving years of this, he was forced into work in Des Moines where his expertise was recognized by the Garden Center franchise he was a key employee within.
Where he should have conducted research was at the methadone clinic he was a stakeholder and a volunteer. Without his funding the nearest maintenance treatment would have been 130 miles in one direction and close to 200 in another. Then he discovered that most of these "dirty junkies" began their trip through hell in an acute or chronic pain situation. He made plea after plea of medical universities to discover exogenous endorphins. To this day, all science knows about endorphins is that they are an unseen hormone of unknown source. While Mark believes that since the discovery of the endocannabinoid system his belief in synergy, both inside and outside the body, will result in the discovery of the endorphin. They are spoken of, they exercise chronic pain patients far beyond pain to stimulate these so far unseen hormones, and the success of science in developing such an exogenous endorphin has resulted in no success as Mark believes they are not looking. It will destroy addiction, it will give all narcotic pain patients a substance they can take at effective levels with no more danger than cannabis, and it will (happily for the client) crush maintenance therapy unless they want or need it. This will be a cannabis system related discovery and will owe it's creation to cannabis and what we learn of it's preventative qualities.
As Mark is tired of the many property seizures in Iowa and states like Iowa, he believes he has found the terpene that will be responsible for a cannabis breathalyzer. This will give law enforcement, making a stopping officer concrete proof to know if the person stopped used in the past four to six hours! Not sometime in the past 30 days. This is a technology that will come quickly as terpenes are simple to isolate and does not depend on complex entourage activity. It is interesting to note that State Trooper's have no comment on a development that Law Enforcement has wanted for years, but all 99 county sheriff's would find this an invaluable tool. Mark's creation of this is to merely keep us responsible with new legalization and prevent oppositional states and areas of states from using inference to take everything the victim owns. Iowa States that it's Trooper's decision to infer an affected level of 5ng./L. This is a very precise measurement to leave to the eyes of any officer as no certified scientist would attempt to judge this level of cannabinoid effect. This tool will stop all wrongful property seizures, wrongful DUI's, and wrongful jailing of innocent citizens.
Mr. Lee has created, and is the Director of the Independent International Cannabis and Health Association. He has taken the compassion of the Beatles when they created Apple Studio's. As we are grievously lacking in the type of research Mark is proposing to the FDA and DOD (who place medical grants in the line budget for defense) as well as NIDA who this association supports. They know him to be above the level of PhD as most of his peers are doctors, PhD's, and friends of some major years of education which he has more in common with than peers at his level and specialty of education. These are all reasons for his creation of this association of like minded people who will be guided to complete their own research, not to Mr. Lee's belief, but to the belief of the cannabis and drug research community he supports through this association. The one rule of his medicine is to not remove the synergistic whole flower relationship into it's base parts, unless it poses a great advancement that without so doing, medicine would be set back to people's harm.