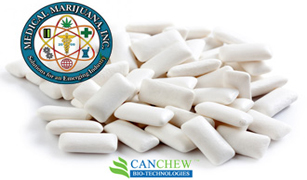 CanChew Cannabinoid Gum Available to Patients Early 2013
As we have begun to show you all, cannabis has more naturally occurring medicinal benefits than most (if not all) lab-made medications on the market. It has been shown countless times to help patients suffering from a number of conditions such as anxiety, cancer, nausea, vomiting, pain, multiple sclerosis, insomnia, arthritis; we could go on all day. However, for patients in severe pain, it may be hard to ingest edibles or take the harshness of the smoke. That is why a company by the name of CanChew, has invented CBD chewing gum to provide patients with an alternative, painless method of ingesting cannabinoids.
CanChew is normal chewing gum that is infused with Cannabidiol, or CBD.
CanChew is the perfect new way for patients to medicate themselves in a socially acceptable, convenient way, while still receiving all the essential cannabinoids needed to treat their disorder.
Oral ingestion through saliva is one of the quickest, and most effective ways to medicate. This is because the CBD will be absorbed directly into your systemic circulation, bypassing the pre-systematic metabolism in your gastrointestinal tract. This makes the gum the perfect deliverance method for cannabinoids since the drug is protected from the degradation caused by digestive enzymes in your gastrointestinal tract. By skipping that step, you can achieve rapid onset of medication unlike edibles, which have to be metabolized and digested first.
CanChew is currently undergoing human clinical trials for the product. The trials should be completed around the end of 2012, but according to the company there has been tons of positive feedback thus far. This full-scale national, and international launch of this amazing new product is planned for early 2013. Just one of the revolutionary medical marijuana products to hit the market.