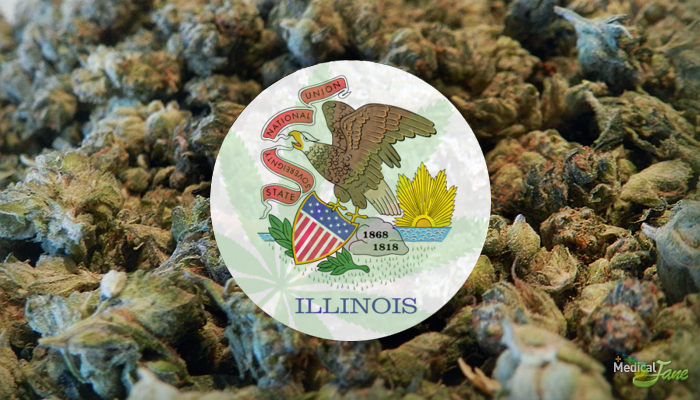 Illinois: One Step Closer to Joining the Green Side
On Wednesday, the 97th General Assembly of the State of Illinois introduced House Bill 0030.
In most states with similar programs such as California, patients can get a doctors recommendation with pain. Illinois' bill is much more restrictive naming specific medical conditions such as cancer, glaucoma, HIV, AIDS, hepatitis C, Crohn's disease, nail patella, and Alzheimer's. It also recognizes patients suffering from chronic illnesses, or their treatments that produce one or more of the following: cachexia or wasting syndrome, seizures (Epilepsy), and muscle spasms (Multiple Sclerosis).
The bill creates the "Compassionate Use of Medical Cannabis Pilot Program Act," which would allow patients that have been diagnosed by a physician as having a "debilitating medical condition," the use of medical marijuana.
If a patient has a medical condition that causes intractable pain, or nausea, and he or she has tried other medical options to treat the pain, they qualify as well. Included in subsection (b) of Section 10 in the bill is a clause that covers patients suffering from, "any other medical condition or its treatment approved by the Department." While the bill lays out exactly what conditions qualify a patient for medical marijuana, with the power in the hands of the Department of Public Health, or any of its successor agencies to qualify patients, it will be interesting to see how they treat this loophole clause.
In Section 20, subsection (a) of the bill, it states that the Department has 120 days from the effective date to come up with rules to govern the manner in which the public can petition to add conditions to the, "debilitating medical conditions," list. The Department must hold a public hearing, giving people an opportunity to comment on such petitions being considered. After the hearing, the Department has 180 days to either approve, or deny the petition. In addition within 120 days of the effective date, the Department must come up with rules to govern applications for medical cannabis organizations, as well as applications for patient, and caregiver registry identification.
The bill allows for legal patient's to carry up to 6 plants and 2 ounces of dried, usable cannabis at any one time. Patients are not allowed to drive for 12 hours after consuming medical marijuana, and distributing cannabis illegally will carry a penalty of no more than 2 years in prison, and a $2,000 fine. The program is set to repeal after three years, meaning it is essentially a test run for medical marijuana in Illinois. Those looking to open a dispensary have to first apply for $5000, and then pay a $20,000 certificate fee if accepted. The bill limits nonprofit dispensaries to 59, and patients are only allowed to buy 2.5 ounces from their designated dispensary in a two-week period. Patients not able to grow the sufficient amount of cannabis to treat their disorder may apply to receive more.
The Illinois Association of Chiefs of Police has spoken out against the bill, despite the fact that the bill allows law enforcement to monitor transactions between registered patients and dispensaries in real time. They believe that the legislation is not safe because it allows someone to drive twelve hours after consuming cannabis, and allows people younger than 18 to qualify if a parent signs off on it.
While we don't see the real danger in either of those arguments, those opposing the bill are working vigorously to secure votes against it. Supporters of the bill plan continue fighting to lock down votes in their favor throughout the weekend, and have made it clear that if the bill doesn't pass this time, they will try again next session. We are rooting for you Illinois.