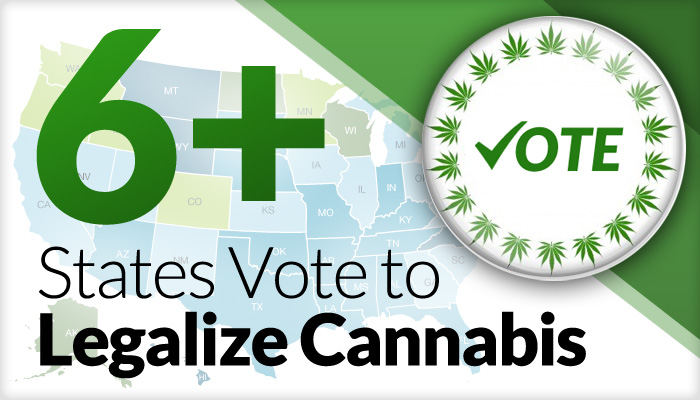 This Years Marijuana Legalization Line-Up Has Been Announced With 6 Hopeful States
After Colorado and Washington voted to legalized cannabis in their states in late 2012, a slight sense of stoner-jealousy arose in other states across the country. This year (as expected) six more states have introduced legislation to legalize, tax and regulate the adult use of cannabis (for recreational use).
NEW HAMPSHIRE
The most recent of which was the state of New Hampshire, who recently introduced their House Bill 492 in the interest of the, "efficient use of law enforcement resources, enhancing revenue for public purposes, and individual freedom." Considering a January poll conducted by Public Policy Polling reported that 53% of New Hampshire voters support T&R legislation, while only 37% were opposed, things are looking promising for the state.
The measure would legalize the possession of anything under an ounce for adults 21 years of age & older, as well as restricting the number of plants during personal cultivation. It also authorizes the licensing of cannabis wholesale, retail (imposes a tax on sale as well), cultivation, and testing facilities.
To tell your elected officials to support marijuana legalization click here!
HAWAII
To be honest, the Honolulu State has really impressed us with their recent support from House Speaker, Joseph Souki (D), and House Majority Leader, Scott Saiki (D) who introduced a Hawaiian T&R bill last Friday. This is in addition to a similar bill in the state Senate that nine lawmakers co-sponsored, as well as a bill co-sponsored by eleven representatives being introduced to the House.
The Senate bill was introduced by Senator Kalani English (D), who stated, "We're at the same crossroads in the U.S. that we were at Prohibition… (Legalizing alcohol) didn't spell the end of society, and that's the same with this." While the Senator does not believe that there will be enough support from the House, he feels it is a matter of individual choice and it deserves discussion. The legislature will be considering at least 18 cannabis-related bills this session.
Opponents of Cannabis Legalization in Hawaii Include:
House Minority Leader Rep. Aaron Ling Johanson – She believes legalization will increase crime, "I'd rather exercise more caution than have to worry about controlling the extra societal costs," said Johnson.
Michele Yu – Spokeswoman for the Honolulu Police Department announced that the agency is against T&R legislation, and said cannabis has a high potential for addiction and abuse.
Honolulu Prosecuting Attorney, Keith Kaneshiro – On the record saying, "I am against decriminalizing marijuana because I believe that it is a gateway drug to drug abuse. I support the law that allows for medical use of marijuana by qualified patients."
To tell your elected officials to support marijuana legalization click here!
MAINE
Maine has some of the highest support for T&R legislation in the nation. State Rep. Diane Russell (D) is reintroducing legalizationbill, LD 1453, this year.
"The people are far ahead of the politicians on this… Just in the past few weeks we've seen the culture shift dramatically," said Russell.
He added, "What we'll see, is a lot more folks ready to talk about this issue." The legislation will legalize the sale of up to 2 ½ ounces per week (21 years and older), and would allow the cultivation of cannabis in private locations.
Dr. James H. Maier, a retired psychiatrist from Scarborough spoke out about the legalization stating his opposition. He believes that legalization would make the drug more accessible to kids. This would be a solid argument Dr., however that would be assuming that the current prohibition is working…which it isn't. It is easier for children to obtain cannabis than alcohol these days. Open your eyes sir.
To tell your elected officials to support marijuana legalization click here!
PENNSYLVANIA
As we stated in our article last week, Senator Daylin Leach (D) is sponsoring a T&R bill this year. He is going up against the Governor, Tim Corbet, who has previously stated that he will veto any and all legalization bills that reach his desk; medicinal or recreational. The bill would treat cannabis the same way alcohol is treated. "It is time for Pennsylvania to be a leader in jettisoning this modern-day prohibition, and ending a policy that has been so destructive, costly, and anti-scientific," stated Leach.
The Senator believes that his bill is, "inevitable," and states that his bill will pass because of demographics and exposure. Over time these factors will overshadow previous irrational fears, and put an end to old horror stories about the harmless plant. A full interview of the Senator speaking on the topic can be found here.
To tell your elected officials to support marijuana legalization click here!
RHODE ISLAND
Last year, lawmakers in RI approved legislation decriminalizing minor possession of cannabis for those 18 years of age or older. While that bill will be set into effect on April 1 (right in time for the holidays), the state is introducing legislation this year that seeks to make Rhode Island the third state to pass T&R legislation.
House Judiciary Chairperson, Edith Ajello, introduced the legislation and believes that legalizing and taxing marijuana will actually result in reduced use of cannabis among minors. "I want to see the criminal element out of this…I think that legalizing and taxing it just as we did with alcohol prohibition is the way to do it." Arjello believes that she has a fighting chance this year and has a "good number of supporters."
To tell your elected officials to support marijuana legalization click here!
VERMONT
Senator-elect David Kuckerman (D) is expected to introduce T&R legislation in 2013.
"Current penalties include a misdemeanor offense and a maximum fine of $500 for possession of up to 2 ounces. Under the proposed legislation, cannabis would be treated like alcohol."
Although Zuckerman doesn't expect the bill to pass this year, he says it deserves to be discussed. However, we wouldn't count the bill out just yet.
A 2012 survey of Vermont respondents throughout the state found that nearly 50% support legalization, while only 40% oppose the idea. "I do think this is a policy whose day will come," said the Senator, "whether it's one year from now or four years from now, I don't know. But I don't think it's something that's 10 years out. I think the tide is shifting."
To tell your elected officials to support marijuana legalization click here!
Don't see your state listed? Get involved!
To see your states current laws or write your legislators, check out our article that we wrote earlier this month that outlines all 50 states and where they stand. NORML has also provides a resource to see if your state is considering any legislation pertaining to marijuana law reform. Be sure to check it out and make marijuana legalization spread to your area.