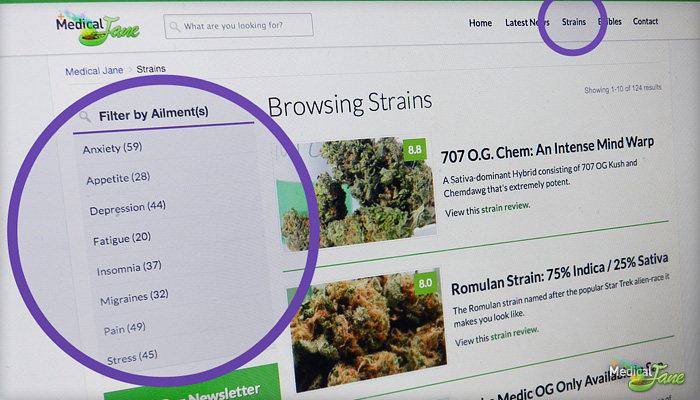 MJ Weekly Update: Users Now Able To Filter Strains By Ailment To Discover Helpful Medicine
We've released an update to the Medical Jane website that allows users to easily filter the search results by ailment when browsing marijuana strains.
As you may or may not know, it is our goal to continually improve the Medical Jane website and community. In doing so, we have decided to release weekly team updates on our progress, as well as provide insight on what we plan on developing next — to create an open platform that thrives off collaborative ideas and creative thinking.
"We recommend you use this new tool to find helpful marijuana strains you may not have even considered yet…"
This week we focused on providing users with a method of filtering strains by ailment. What this means is that you may now go to the new strains page and easily determine which medical marijuana strain best fits your needs or desires. It's never been easier to find a strain that is great for multiple ailments. ie. anxiety, depression, and pain… shows only a handful of results.
What Were Working On Next
Lately we have been busy. Really, really busy. Having said that, we will continue to push forward with weekly updates. I guess you could say we're on a mission. The next major items on our to-do list are attending the Hightimes Cannabis Cup in LA, designing custom tees, and adding a recipe section (cooking with Cannabis) to the Medical Jane website.
As always, if you have any ideas or input on what you want to see next, please let us know.