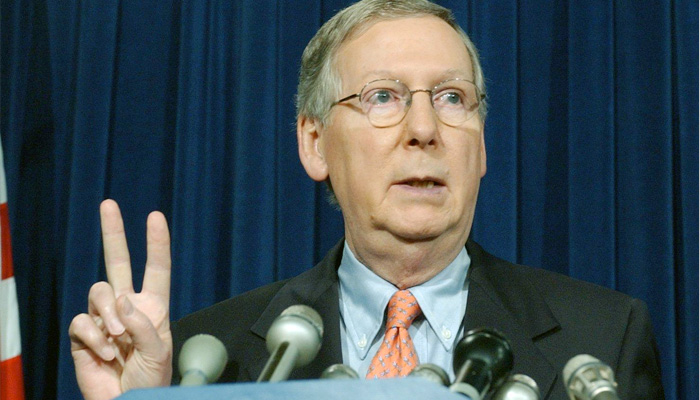 More Statewide Tax & Regulation, Decriminalization, and Medical Marijuana Bills To Be Introduced
As two Democratic Representatives from Colorado and Oregon push for national legalization of cannabis, lawmakers are coming out of the woodwork across the country; each introducing their own statewide versions of tax and regulation, decriminalization, and medical marijuana bills.
Kentucky Introduces Industrial Hemp Bill
"The utilization of hemp to produce everything from clothing to paper is real, and if there is a capacity to center a new domestic industry in Kentucky that will create jobs in these difficult economic times, that sounds like a good thing to me." – Sen. Mitch McConnell
Kentucky Senior Senator, Mitch McConnell came forward last week stating that he was in support of his states' recently introduced bill to legalize industrial hemp. McConnell also happens to be the most powerful Republican in the U.S. Senate (as Senate Minority Leader), which will help the case for nationwide legalization.
"I am convinced that allowing its production will be a positive development for Kentucky's farm families and economy," McConnell stated.
However, the bill will have a tough time making it through the House without support from the Kentucky State Police; who of course, oppose the bill.
They have expressed their concern of not being able to distinguish the difference between hemp and marijuana, and are worried that farmers will use these large scale hemp operations as a cover up for illegal growing within the fields. It is becoming more and more apparent that these people have no knowledge about cannabis or how it grows. The cross-pollination from a field of that size would never allow for 'smoke-able' cannabis to come out of it.
Michigan Fights to Save Their Beloved Dispensaries
Michigan had a very eventful week. The state's Supreme Court upheld a preceding appeals court's decision that the sale of cannabis is not permitted under Michigan's MMJ law. Many dispensaries across the state have closed their doors following the ruling, but many are expected to ride out the storm. After all, there are between 75 and 100 dispensaries in Michigan, so it would take extremely strict enforcement to shut down all operations. Since the MMJ law mentions nothing about dispensaries, they have technically been operating illegally. Despite the recent ruling, Michigan lawmakers plan to quickly introduce a rebuttal bill that would legalize medical-marijuana dispensaries. Rep. Mike Callton (R) of Nashville said that he was concerned for the health and well being of the state's 125,000 medical-marijuana patients. Many patients can't grow their own cannabis, and there are not enough caregivers to grow it for everyone. He fears patients will be forced to go underground to find cannabis.
Other Recent Medical Marijuana Legalization Efforts
Alabama
Alabama Democratic Rep. Patricia Todd of Birmingham, introduced her bill on Wednesday that would have legalized the use of medical marijuana for cancer patients receiving chemotherapy, and others who suffer from, "severe pain." The bill was the first on the ballot to be considered by the House Health Committee, and unfortunately was shot down with a 12 to 2 vote in the committee. The same bill has failed several times, but officials with the Libertarian Party of Alabama released a statement announcing they are in favor of the bill and this will certainly not be the last effort. Rep. Todd commented on the defeat, "We knew that they were going to defeat the bill, but we got two affirmative votes, and I think we raised the possibility that they will look at this closely and that we need to continue to study it." The executive director of the Alabama Medical Marijuana Coalition, Ron Crumpton, sent Todd a similar bill on Wednesday that they plan to file during the 2013 session (which started Tuesday).
North Carolina
North Carolina lawmaker, Kelly Alexander introduced House Bill 84 in Raleigh on Thursday that will legalize medical marijuana. This is the second attempt at the bill, but lawmakers are hopeful this time around because of the recent legalization in Colorado and Washington. In addition, an online petition shows than 15,000 signatures from people supporting the legalization. "Medical cannabis can help. Right now people who want to use cannabis in a medical sense were forced into the black market and that shouldn't be," stated Rep. Alexander.
This Tuesday, February 12th, there will be a meeting held in Raleigh at the NC State legislative building in order to educate lawmakers on House Bill 84. The 'Legislative Day' is expected to draw at least 1000 supporters, with over 1500 already "going" on the Facebook event. Many people will have a chance to speak including doctors, patients, and other professionals in the industry. If anyone is available to go to this meeting, we would love to hear about what went on!
Recent Decriminalization Efforts
Indiana
Indiana lawmakers recently introduced a bill to their state Senate that will attempt to decriminalize the possession of 55 grams or less of cannabis carrying a maximum fine of $500. Current law in Indiana is so harsh that you could serve up to a year behind bars (Class A misdemeanor) for possession of less than 30 grams. State Senator Brandt Hershman opposes the legislation, stating, "I think we need to keep it as is…Heroin and marijuana are obviously not the same thing, but I have talked to many law enforcement officials, and the treatment community that view marijuana as the gateway drug to those other drugs, and that's something we need to be aware of."
"I have talked to many law enforcement officials, and the treatment community that view marijuana as the gateway drug to those other drugs, and that's something we need to be aware of." – Sen. Brandt Hershman
Really? The gateway drug excuse again? It is funny how the only people who actually seem to believe this bogus wives tale are law enforcement officials and treatment facilities. So why do they stick to this inaccurate excuse? Some believe that it is because nearly 20% of treatment facility admissions are for marijuana, and a large amount of those admissions are court ordered. If cannabis were made legal, innocent offenders would not be treated as addicts and forced into treatment facilities. There is no doubt that legalization would have a significant impact on these numbers, and would definitely put a hurting on profits. But I digress.
Vermont
Vermont introduced two bills recently in both houses of the Vermont legislature. Senate Bill 48 was introduced late last month, and House Bill 200 was introduced to the House on Tuesday when the session started. The Senate bill would decriminalize the possession of an ounce or less of cannabis (by adults 21 years of age or older) from a criminal misdemeanor to a civil fine. The House bill would decriminalize the possession of up to two ounces and the cultivation of two mature, and seven immature, marijuana plants. Under both bills, minors caught with cannabis will be treated like minors pinched with alcohol. In the past, House Speaker Shap Smith has vetoed decriminalization bills, but he said that he wouldn't' block a bill if it made it out of the Committee this year.
New Mexico

New Mexico state Rep. Emily Kane introduced a bill on Thursday that would reduce penalties for adults (21 and over) who possess small amounts of cannabis. House Bill 465 would decriminalize possession of up to 4 ounces to a civil penalty with increasing fines. The bill also takes away the potential for jail time for possession of up to 8 ounces of usable cannabis. This is an improvement from the state's current laws that include a petty misdemeanor crime with fines and possible jail time for possession of up to one ounce. Carrying over an ounce (up to 8 ounces) of cannabis is punishable by a misdemeanor crime with large fines or possible jail time of up to a year.
Don't see your state listed?
Get active. Find out what is happening in your state and write your local and state representatives. It's time to end marijuana prohibition in all 50 states.