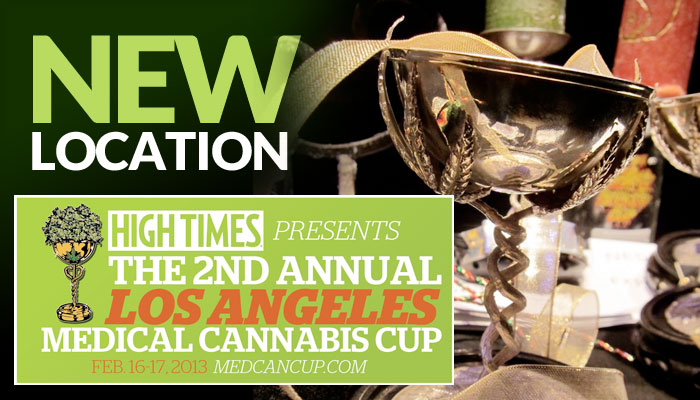 ATTENTION: Change of Location for the High Times LA Medical Cannabis Cup on Feb 16 & 17
ATTENTION: There has been a change of location for this weekends HIGH TIMES Medical Cannabis Cup in Los Angeles. The event will no longer be held at the LA Center Studios unfortunately, because of permit difficulties.
Instead, the event will be held at Glendale Studios in Glendale, CA (just outside of LA). Everything else to do with the event will remain unchanged; it will just be 10 minutes away from the original location.
HIGH TIMES has stated that Glendale Studios is, "proud to host the Southern California cannabis community," and that they will be working to ensure that your experience at the cup will be exceptional.
HIGH TIMES Schedule of LA Cup Events:
Saturday
12:00 PM Doors Open – Events Begin
1:30 PM "Legalize LA" Panel, featuring David Bienenstock, James Devine, Jay Leiderman, Dale Gieringer, and Kandice Hawes
3:00 PM Live recording of "Free Weed" from Danny Danko, featuring DJ Short, Kyle Kushman, Swerve, Rick Pfrommer, and other special guests
5:00 PM Patients' Panel, featuring Dr. Christine Paoletti, Fred Gardner, Martin Lee, Debby Goldsberry, and Marla James
6:00 PM The Cali Connection presents the Homegrown Party, with opening act Rhyme Addicts
7:00 PM Redman Performance
8:00 PM The Game Performance
Sunday
12:00 PM Doors Open – Event Begins
1:00 PM Film screening – The House I Live In
3:00 PM Edibles Panel, featuring Elise McDonough, Chef Mike Delao, Cheri Sicard, and Kenny Morrison
4:00 PM Dab Panel, featuring: Bobby Black, Wheezy Dabs, Trichome Kenny, and Addison DeMoura. DJ Ideal
5:00 PM Karma to Burn
5:30 PM Cultivation Seminar feautring Nico Escondido
6:00 PM BishopeMagnetic with Zuma
7:30 PMTHE OFFICIAL HIGH TIMES MEDICAL CANNABIS CUP AWARDS SHOW*
*Awards will be presented for the top sativas, indicas, hybrids, edibles and more! Featuring TOMMY CHONG accepting the Lifetime Acheivement Award! Music by DJ Crystal Ellis.