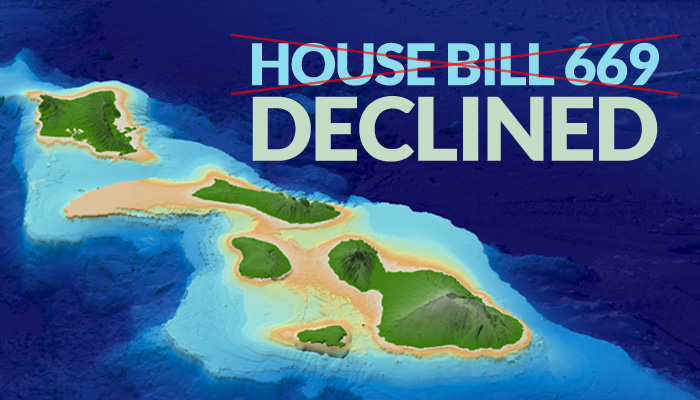 Hawaii's House Bill 669, For Legalized Recreational Cannabis Use, Gets The Boot From The House
Hawaii's House Bill 669 died in the state legislature Tuesday, despite its majority support from members of the Committee. The bill would have authorized adults 21 years of age or older to grow, consume or possess limited amounts (up to one ounce) of cannabis for recreational use.
House Bill 669 would have also provided for the establishment of cannabis cultivation and manufacturing facilities, lab testing services and dispensaries. An excise tax would've been added on all transactions between each establishment as well.
The bill failed to make it through the house despite its support from House Speaker, Joseph Souki, and House Majority Leader, Scott Saiki. After HB669 was introduced, it was faced with a large amount of backlash from law enforcement officials at a public hearing on the bill. Officials gave the same excuses they always do; that marijuana is a dangerous drug, and the societal costs of legalizing aren't worth the risks of allowing "marijuana culture" to proliferate. House Minority Leader, Aaron Ling Johanson, stated that she believes legalization will only increase crime. "I'd rather exercise more caution than to have to worry about controlling the extra societal costs," said Johanson.
"I'd rather exercise more caution than to have to worry about controlling the extra societal costs."– Aaron Ling Johanson
Opponents included county police departments, the state attorney general and the Coalition for a Drug-Free Hawaii. Across from them sat members of the American Civil Liberties Union and several concerned community members. These supporters argued that the bill would respect a person's freedom of choice and would free up a large amount of state resources. They also said that the current war on drugs in Hawaii is focused on native Hawaiians and other minority groups (seems like a common trend across the country).
While many proponents are disappointed they didn't get the chance to further the discussion, they recognize this year's legislative session is still young. Apoll conducted for the Drug Policy Action Group found that 58% of Hawaiian's support decriminalization, while only 40% opposed legalization. Another study done by David Nixon, a University of Hawaii economist, found that decriminalization of marijuana possession would reduce state and local enforcement costs by nearly $9 million annually. The legalization of manufacturing and distribution of cannabis would reduce costs by an additional estimated $3 million, bringing total annual savings to a whopping $12 million. In addition, legalization would allow the state to rake in at least $13 million in tax revenues.
Hawaiian Cannabis Activists Shift Focus To Senate Bill 472
It is clear from the surveys that this is merely the beginning of the push towards legalization in Hawaii. The opponents of these bills need to face the facts presented in the studies, and consider new ways to deal with marijuana. Proponents can now shift their focus to Senate Bill 472, the next legislation to decriminalize minor marijuana possession offenses in Hawaii. The bill would make minor possession a $100 fine-only offense. Under present law, the possession of up to one ounce results in a criminal misdemeanor, punishable by a $1,000 fine and up to a month in prison.
To write your member of the state Senate asking for his or her support on SB 472, please click here.