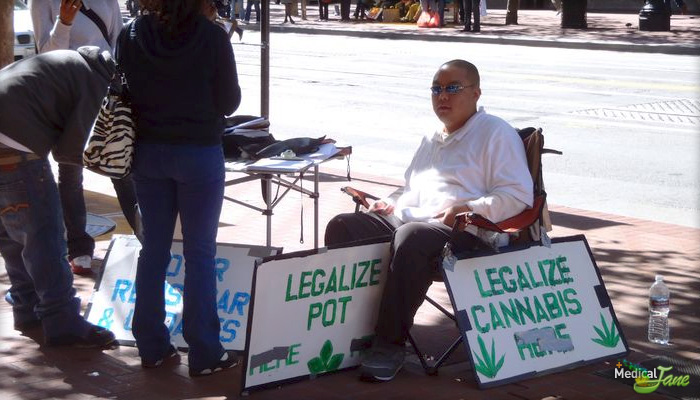 A New Medical Marijuana Act In Michigan Leaves The Decision Up To Local Officials & Residents
Michigan's long awaited medical marijuana Provisioning Center Regulation Act (PCA) has been introduced to the House.
Michigan's dispensary owners have feared for their lives this past month in the wake of the Supreme Court ruling that deemed them criminals. Fortunately for them, a group of bipartisan lawmakers finally met yesterday to advance HB 4271 – The Medical Marijuana Provisioning Center Regulation Act (PCA) into the state House of Representatives to legalize their existence.
State Rep. Mike Callton (R) is sponsoring the bill that would leave the decision to allow for medical marijuana dispensaries up to local officials and residents. Individual communities will be free to decide for themselves whether or not to allow dispensaries, and where they may be located within the area. Also included in the act are provisions for who may work in such facilities, what activities may occur at the centers, and how centers will cooperate with the patient/caregiver community.
Medical Marijuana in Michigan Gains Support
A total of 16 representatives, 8 democrats and 8 republicans, cosponsored the bill. Callton claimed that several more conservatives asked him if they could cosponsor the bill, but it was too late to get them listed. The first of the sponsors to sign on was State Rep. Tom McMillan (R), of Rochester Hills.
"I've got friends who are legitimately helped by medical marijuana… There's a new group of Republicans saying this war on drugs has been a disaster. Eventually we've got to step back and look at that."– State Rep. Tom McMillan (R)
At a recent fundraiser held in support of the effort to pass the PCA, Callton and Rep. Kevin Daley, discussed the need to pass the bill and pledged to continue the discussion on marijuana. The fundraiser was held in Dryden Country, who in 2010 passed an ordinance allowing a single dispensary to open only to be later raided by Lapeer County Sherriff Department. The ordinance was ultimately made null and void even after protesters gathered around the Lapeer County Sheriffs Department offices.
Robin Schneider, a member of the Detroit-based National Patients Rights Association (NPRA), commented in support of the bill: "This will give control back to local government—to zone these centers and to say how many they want…Communities can say, 'Do we want this happening in a (residential) neighborhood or in a designated commercial or industrial district?' Or, 'we don't want this happening right next to our schools."
The NPRA is organizing the support for the legislation, and aim to "protect patient rights; encourage medical practitioners to understand the benefits and uses of medical marijuana; sustain the decision of Michigan voters to legalize marijuana for medicinal use; and support the existing Michigan Medical Marijuana Act (MMMA) as a workable system for getting medical marijuana to those who need it."
Although a similar bill died in committee last year in Michigan, Callton has much more faith this time around because of all his conservative cosponsors. We will keep you updated when any information surfaces from the committee. Michigan is also working on introducing a separate bill (currently in draft stage) next month that would reduce penalties for possession of small amounts of marijuana.