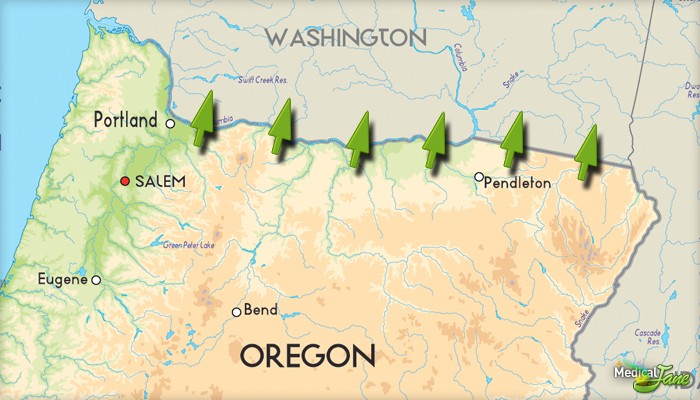 Oregon House Committee Introduced The 'Control, Regulation, & Taxation of Cannabis Act'
The Oregon 'House Committee on Revenue' introduced House Bill 3371, or the 'Control, Regulation & Taxation of Cannabis Act', on Monday, February 25.
Following the end of cannabis prohibition in its neighbor state, Washington, Oregon lawmakers have finally drafted a shrewd bill of their own. The bill will provide for the production, processing and sale of cannabis and cannabis-infused products and will give the Oregon Health Authority the authority to license all of these business owners.
"We're going to need a new bridge, pronto." – The Oregonian
The Oregon bill takes good parts from both Washington and Colorado bills and treats cannabis like alcohol. However, unlike Washington's I-502, the Oregon law does not include any stipulations for enforcing marijuana DUI's. In addition, it mentions nothing about the workplace or the tenant-landlord relationship laws. It will allow for people to grow their own personal cannabis gardens of up to 6 plants, and possess up to 24 ounces of cannabis "on the premises" of non-commercial home grows. The bill also allows for the production and sale of "edibles" as well as industrial hemp.
New Oregon Bill Would 'Remove The Incentives' For Those Traveling To Washington For Their Bud
Last year, Oregonians voted 46% in favor of a similar marijuana legalization initiative that would have allowed for the unlimited personal production and possession of cannabis. Shortly after, The Oregonian Editorial Boardexpressed their disappointment by proclaiming, "We're going to need a new bridge, pronto." They stated that the new laws in Washington "may soon make a dependable supply of legally obtainable pot available within a short drive of downtown Portland."
"Want to stop the movement? Remove the incentives by leveling the policies." – The Oregonian
Many lawmakers have agreed, and are not pleased that Washington would be collecting millions of dollars from Oregonians who'd happily cross the state borders for a joint. House Bill 3371 would solve this "problem" by establishing a taxed and regulated industry for Oregon that would generate millions of dollars from taxes and registration fees. "Losing out on all that revenue would be a pity," said The Oregonian. "People move back and forth in pursuit of their interests. Want to stop the movement? Remove the incentives by leveling the policies."