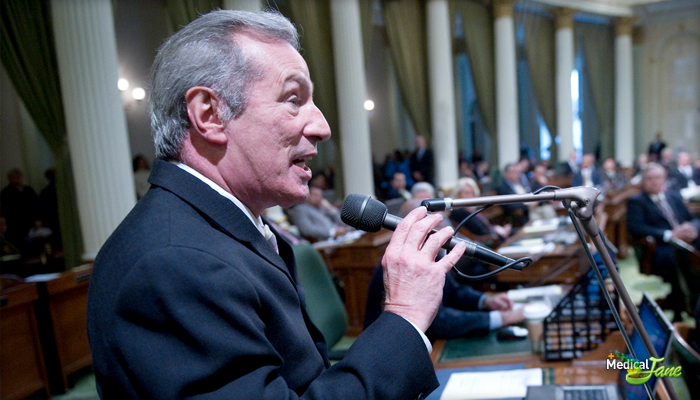 Tom Ammiano Proposes California Medical Marijuana Regulations
According to MMJ Business Daily, California's medical marijuana market is the largest in the country, with annual retail sales between $700 million and $900. However, the grass is not as green as it may appear, at least in this case.
Although the medical marijuana being provided in California is some of the best in the world, "a lack of state-wide regulations on dispensaries has created a unpredictable business climate that leaves itself open to chaos."
"This is a concrete plan that will keep medical marijuana safe. We will get it into the right hands and keep it out of the wrong hands." – Tom Ammiano
On Tuesday, Assemblyman Tom Ammiano (D-San Francisco) proposed legislation that aims to clear the smoke in the state's program. His proposal, AB 473, would put the duties of monitoring supply and sales of medical marijuana in the hands of the California Department of Alcoholic Beverage Control.
The state board would replace the current medley of standards that exist from city to city with statewide regulations. However, cities and counties would still have the right to ban dispensaries under Ammiano's law. As it stands, the bill is very short on specifics beyond these.
Patients Are At The Mercy Of Constantly Changing Rules
Ammiano proposed a similar measure last year that attempted to bring order to the medicinal marijuana program in the state. He faced opposition from the Los Angeles County district attorney's office as well as the LAPD, who believed that the legislation would only stimulate the growth of an industry they deemed out of control.
"California has been in chaos for way too long." – Tom Ammiano
This year's bill is based off of the 3-year-old rules in Colorado, and Ammiano believes it has a much better chance of going through this time around for that reason. "Where marijuana rules are concerned, California has been in chaos for way too long," Ammiano told the LA Times. "Cities have been looking for state guidance, dispensaries feel at the mercy of changing rules and patients who need medical cannabis are uncertain about how their legitimate medical needs will be filled."
It is understood that the California Supreme Court will be making their final ruling on the bill this May.