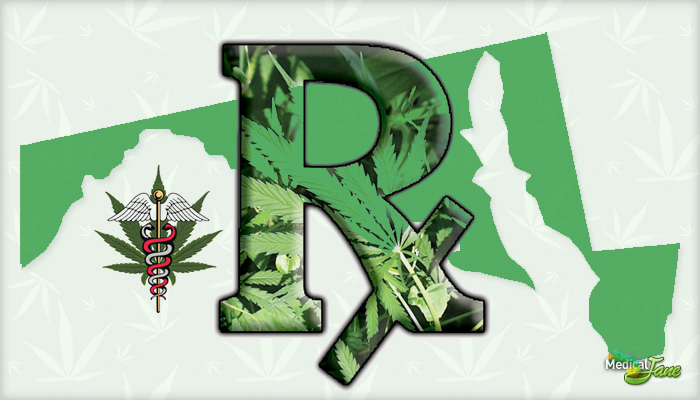 Maryland Governor To Sign Medical Marijuana Bill Today
A Maryland medical marijuana bill is expected to receive its final approval from Maryland Governor Martin O'Malley later today (May 2nd).
The bill, House Bill 1101, was originally approved by the General Assembly on April 8, and a spokeswoman confirmed yesterday that the bill-signing ceremony is to take place today.
"I've long said Maryland should replace the dealer-patient relationship with the doctor-patient relationship."– Del. Dan Morhaim
The measure will establish the "Natalie M. LaPrade Medical Marijuana Commission" that will function within the Department of Health & Mental Hygiene. The commission will permit academic research centers (universities and hospitals) to establish their own medical marijuana programs after they apply.
Baltimore County Delegate Dan Morhaim told the Washington Post, "I've long said Maryland should replace the dealer-patient relationship with the doctor-.patient relationship. This law gives us a chance to do that." However, the official start date of the program remains unannounced and may not be until as late as 2016. Nonetheless, the bill will make Maryland the 19th state to establish a medical marijuana program.
Maryland House Bill 1101 Is Not Very Patient-Friendly
Patients enrolled in the participating centers' programs will receive marijuana for the medical conditions specified by the center itself. The medical center will be responsible for establishing the criteria to participate in their program, and will be required to provide all patient and caregiver data to the state health department on a daily basis. In addition, the state health department will be obligated to make that data available to law enforcement at all times.
The privacy of a patient is the cornerstone of contemporary medical ethics. Why should the medical centers be forced to provide patient data? Not to mention, the bill states that the participating medical centers must obtain their marijuana from either the Federal Government or a licensed grower.
This doesn't sound too horrible. However, the commission will be responsible for licensing these medical marijuana growers and will limit that number to five growers per approved program. These five licensed growers will only be permitted to provide marijuana to their specified academic medical center. If an academic medical center utilizes caregivers as part of their program, they are limited to serving five patients each and no patient can be served by more than two participating caregivers at a time.
Maryland MMJ Bill Not Easy On Medical Centers Either
The Commission may approve no more than five programs to operate at one time in the entire state under House Bill 1101. Many medical marijuana supporters believe this may not be sufficient, and say the bill is not doing enough for the patients. We'd have to agree with them on this one.
The University of Maryland Medical System and Johns Hopkins University have already stated that they will not be participating in the program according to the policy note on the bill.
We don't blame them. Below is a list of all the requirements of an Academic Medical Center to operate a medical marijuana program. All must be covered in the application:
Participating programs will be required to specify all qualifying medical conditions.
Specify the criteria by which the center will include and exclude patients.
Specify how patients will be addressed for addiction before and during treatment using marijuana.
Describe the source of cannabis to be used in the program including scientific details of the type of cannabis.
Specify the length of treatment and dosage
Describe how health care providers will be eligible to participate in the program and what training they will receive
Include a description of how caregivers will interact with patients
Demonstrate approval of the program by the center's review board
Describe the plan for defining and monitoring the success or failure of treatment
Include a plan for monitoring aggregate data and outcomes and publishing results
Include a description of the sources of funding for the program
Describe the steps the center will take to prevent and monitor diversions from the program by patients
Describe how the program will dispose of any unused cannabis
Describe how the medical center and program will meet any other criteria established by the commission related to diversion or other aspects of programs overseen by the commission (What?)
We are all for legalizing the plant, but Maryland may want to rethink this one…