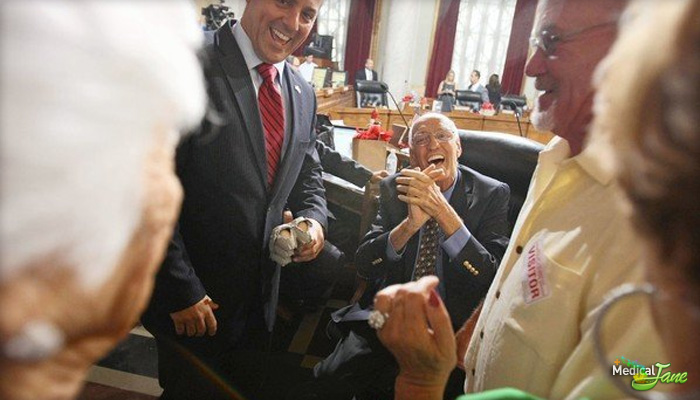 City Councilman Bill Rosendahl: "Medical Marijuana Has Saved My Life."
Los Angeles City Councilman Bill Rosendahl made a YouTube announcement yesterday, May 2 that his cancer is officially in remission due to the incredible healing powers of cannabis.
"Frankly I was given the death sentence," Rosendahl said about his diagnosis for Stage 4 cancer last summer. He was given only two months to live and was told that he wouldn't see the November elections due to his cancer of the uterer.
After "five months of hell" Rosendahl was encouraged to try medical marijuana by his incredible doctor at St. Johns. Although he was already using the plant to treat his neuropathy in his feet, he was unfortunately taking another pill at the same time that he attributes to giving him the cancer.
"I was able to get six hours of sleep a night uninterrupted with no pain, that came from the medical marijuana. Without it I would not be alive today."– Bill Rosendahl
Rosendahl said in a separate interview that he also endured 13 radiation sessions and 10 rounds of chemotherapy before he recognized the treatment wasn't working and it was time for a different approach. When he realized that the drugs the hospital was treating him with were killing him, he decided to go in the direction of less toxic treatments.
He wasn't sure he would make it at all up until about eight weeks ago. Rosendahl was able to gain strength back in his entire body and was getting about six hours of sleep per night uninterrupted with no pain. "That came from the medical marijuana," stated Rosendahl. "Without it, I would not be alive today."
Councilman Rosendahl decided last year that because of his health, this would be the year to step down after 8 years in office. But now that he is well again, Rosendahl will be returning to the private sector after June 30 and is looking forward to living another thirty healthy years.
Rosendahl's chief of staff, Mike Bonin, will be replacing him and will be seated July 1st.
Congratulations Councilman Rosensdahl, we are so happy to hear of your good health!