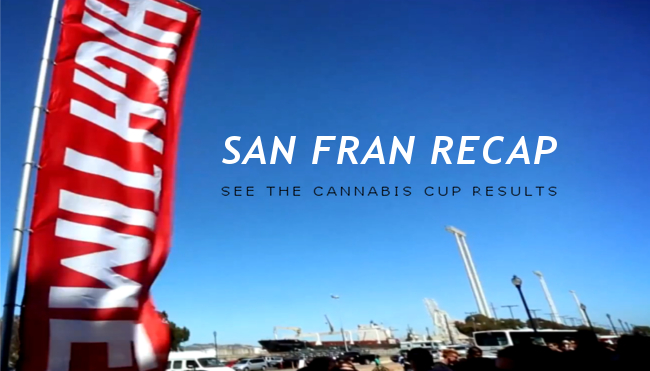 High Times Medical Cannabis Cup San Francisco 2013 Winners
The 4th annual HIGH TIMES San Francisco Bay Area Medical Cannabis Cup came to a successful end Sunday night after a long weekend of countless dabs and tons of entertaining guests.
The two day-long expo took place at Craneway Pavilion right outside of San Francisco in Richmond, CA, where approximately ten thousand medical marijuana patients came out to again celebrate the best medicine on the planet, cannabis.
The event featured lectures from a 'highly' educated panel of guests on everything from legal issues and cultivation, to the in's and out's of edibles and infused products.
Three designated 'medication' areas were filled with the booths of California's premier canna-companies and guests mulling about waiting for their turn to sample some of the best flowers, edibles, topicals, and concentrates the state's dispensaries have to offer.
Sunday night's award ceremony crowned the state's best Sativa, Indica, Hybrid, Hash, Concentrates, Edibles, and a few other categories. The only company to take home multiple awards was BAMF Extractions, who's Lemon OG Solventless Wax and DNA Tangie flowers took home 'Best Hash' and 3rd place in the Sativa category, respectively. Also a big salute to Oil Slick, who won first place for best product!
The winners were as follows:
BEST SATIVA
1- Cracker Jack by Santa Cruz Mountain Naturals
2- Red Dragon by Leonard Moore Co-op
3- Tangie by BAMF Extractions
BEST INDICA
1- Girl Scout Cookies by Berkeley Patients Group
2- OG Eddy Lepp by 3rd Gen Family
3- Bomb Threat by Archive Seed Bank
BEST HYBRID
1- Headband by Loud Seeds
2- Phish OG by Sovereign Wellness Center
3- Veganic Platinum Girl Scout Cookies by Buds and Roses Collective & Private Stock LA
BEST CONCENTRATE
1- Paris OG Wax by Grateful Meds
2- Humboldt OG Shatter by Golden State Extracts
3- Lemon Amnesia Shatter by Archive Seed Bank & TerpX
BEST HASH
1- Lemon OG Solventless Wax by BAMF Extractions & Reserva Privada
2- Caramel Candy Kush Bubble by Dynasty Seeds
3- Master Yoda Solventless by Kush Connection & Essential Extracts
BEST EDIBLE
1- Kiva Blackberry Dark Chocolate Bar by RCP Sacramento
2- Day Dreamers Medicinal Chocolates by SJ Patients Group
3- Toffee Turtles by CCSC Melrose Premium Collective LA
BEST NON-EDIBLE MEDICALLY-INFUSED PRODUCT
Doc Green's Therapeutic Healing Cream by Doc Green's Healing Collective
HIGH CBD
Edible: Lemon Blueberry C.B.canD Lollypop by Top Shelf Collective & Shatter Made Edibles
Flower: Jedi Kush by Blindpack Trading Pins
Concentrate: C.B.CandD Oil by MTG Seeds & First Class Concentrates
BEST PRODUCT
1- Oil Slick
2- Cloud V
3- Micro Vape Glass Globe Kid by Vaped Vaporizer
BEST BOOTH
1- Magnolia Wellness
2- Cali Connection
3- TGA Genetics
BEST GLASS
1- Hitman by Hitman Glass
2- Revere Glass School
3- Silika Glass