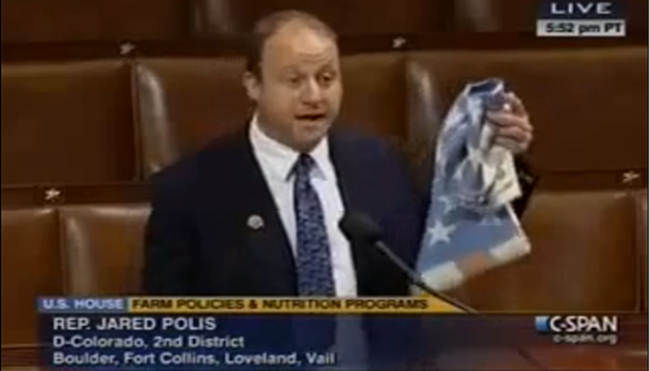 Hemp American Flag To Fly Over Capitol On July 4th
It's official, an American flag made completely of hemp will be flying high over the nation's capitol during atop the Capitol building during the 4th of July weekend.
Hemp, a fibrous and seed-filled crop, is a close relative to the Cannabis Sativa plant that can be used to produce products such as paper, fuel, building materials, and even car parts.
In fact, when Henry Ford opened his famous automobile plant in the 30's to start producing the Model-T, Ford successfully experimented with biomass fuel conversion as well as extracting methanol, charcoal fuel, tar, pitch ethyl-acetate, and creosote all from hemp.
Nearly a century later, a Colorado farmer lobbying for the legalization of hemp cultivation, Michael Bowman, and Congressman Jared Polis (D-Colo.), a member of the House Rules Committee, accomplished a small victory for cannabis activists everywhere.
"It's a powerful symbol." – Michael Bowman
The Congressman submitted Bowman's flag, made from Colorado-raised hemp, through the Capitol's program that allows members of Congress to send in flags to be flown above the Capitol. This will be the first hemp flag in 80 years to fly in the nation's capitol. "It's a powerful symbol," said Bowman, making the point known that hemp had a large role in the founding of our country.
Polis pushed for the idea while lobbying Congress this year for his Farm Bill, using the flag to emphasize the point that more research needs to be done in the field of industrial hemp. He made sure to state that Betsy Ross made the first American flag ever made out of hemp (See video below).
After the flag's flight in D.C. the flag will return to Colorado, where it will fly atop the capitol building in Denver. After it's turn in Colorado, the flag will be sent to Vermont, where it will start its tour of state houses in states where there's pending legislation for the legalization of industrial hemp.