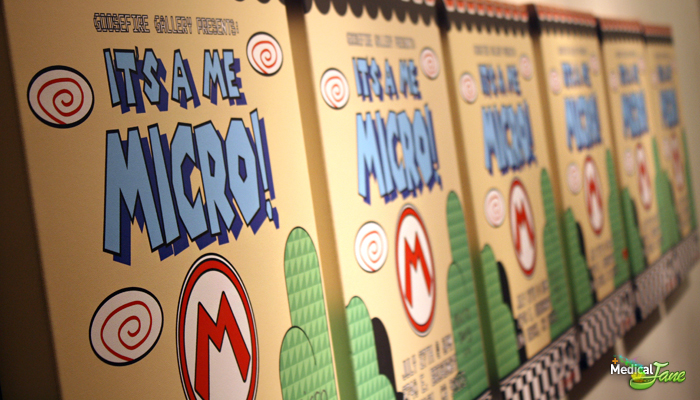 GooseFire Gallery Presents: "It's A ME MICRO!"
Paul Stephan is an American glass artist that has been blowing glass for a little over ten years out of his small scale glassblowing studio, 'Micro's Workshop' in Milwaukee, WI.
This past weekend, Paul's work was on display at a free art show hosted by the GooseFire Gallery in Long Beach, CA. The show was appropriately named 'It's A ME MICRO" and the theme was an ode to the side-scrolling video games of the 1980's; specifically Mario Bros.
Micro's work — 'Micro' is his artist name — featured layered scenes of the old games accompanied by bright lines that worked their way around many of the fully worked pieces.
A large amount of Micro's art was sold during the show, but his 'millies' were definitely the hottest selling items. Other items included some amazing functional pieces, an awesome Mario Bros. themed munny, marbles, paperweights, and pendants. Some other popular artists work was on display as well, such as Coyle Condensorand Kurt B.
The scenes in much of Micro's art are filled with tiny colored images, or murrine, that are pieced together over months to make a layered 3D mosaic. The process, as we learned, is actually incredibly tedious and time consuming.
"Murrine (pluralization murrini) is a term for patterns that are made in glass cane (long glass rods) that are only revealed when the glass is cut in cross-sections."
Murrine (pluralization murrini) is a term for patterns that are made in glass cane (long glass rods) that are only revealed when the glass is cut in cross-sections. Murrine is made by layering different colors of molten glass around a core, then heating and stretching it into a rod. Once the long rods cool, they are cut into slices and the original pattern is now identical across all the slices, or "millies", as they are referred to.
These millies can then be used to make an endless number of designs, but a popular technique is known as Millefiori, which is where the term 'Millie' comes from. Micro made a number of these murrine to incorporate in his main pieces of art, so he had a limited amount of these slices left over for sale as a single image.
In the picture below of the red marble, both the Mario & the Turtle were individually made murrini that were pieced together in the marble. You can see a slice of the same Mario murrine in the dome in the next picture (glass fitting that is normally where the "bowl" belongs). The limited number of the leftover slices were sold as individual collectors items (see third pic), and they were nearly all spoken for when we left the show.
Where Else Can I Find Micro's Work?
Unfortunately for those of you who could not attend the show at the Goosefire Gallery, Micro's Workshop is currently back ordered for 18 months and has stopped taking new orders. However, if you are a wholesale customer, Micro will have merchandise available at the Glassroots Art Show in Madison, WI in October.
Micro's pipes have been featured in a number of top end gallery shows in Kobe, Japan, New York, and now, Los Angeles. If you are lucky enough, you might just catch Micro at a glassblowing competition or even get to book a glassblowing class with him. Recently Micro has taught class at the Revere Glass School in San Francisco, CA.
The GoosefFire Gallery is a Long Beach glass shop that focuses on the best in modern, experimental glass art. They feature both functional and decorative works in an effort to explore,"the boundless creativity found in combining aesthetic expression with science and function." They work closely with the community of contemporary glass artists to provide them a space for their art to be appreciated by the masses. Their shop is located at 2748 E. Broadway, Long Beach, CA.