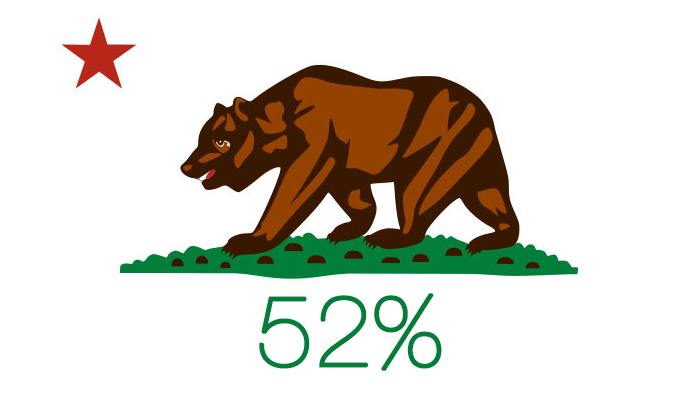 52% Of Californian's Want Cannabis Legalized, Collecting Signatures For 2014 Ballot
According to a poll conducted by the Public Policy Institute of California (PPIC), fifty-two percent of California adults surveyed said they thought cannabis should be made legal in the state.
The James Irvine Foundation founded the PPIC Statewide Survey, "Californians & Their Government," which was based on a telephone survey of 1,703 California adult residents. Participants were interviewed on landlines and cell phones from September 10-17, 2013.
"The question asked was: In general, do you think the use of marijuana should be made legal, or not?"
The 52% level of support for legalization was a new record since the group began conducting polls back in 1998. Additionally, it is the first time that the support has been above 50%.
Of likely voters, 60% favor legalization (Democrats 64% to 33%, Independents 60% to 36%, Republicans 45% to 53% opposing), and men (57%) are more likely to favor legalization than women (47%).
A larger majority of likely voters (68%) also say the U.S. government should not enforce federal marijuana laws in the states that allow medical or recreational cannabis use.
What Does This Mean For California?
With accordance to nationwide trends, majorities of Californians have now made it clear they do not believe the U.S. Department of Justice should be enforcing federal marijuana laws.
Concurrently, the Secretary of State Debra Bowen announced Thursday that California residents may have the opportunity to make their wishes become a reality in 2014.
Supporters of The California Cannabis Hemp Initiative 2014, which would decriminalize the possession, use, cultivation and sale of cannabis, will have 150 days (until Feb. 24) to collect the 504,760 necessary signatures to put the measure on the November 2014 ballot, Bowen said.
"We honestly feel this plant can help transform and sustain humankind." – Michael Jolson
Proponents of the initiative, Berton Duzy and Michael Jolson, said they are optimistic about the initiative qualifying this time around. A previously sponsored initiative by Duzy and Jolson was proposed in 2012 but never qualified for the ballot.
"I'm optimistic because of the enthusiasm we're getting from people who want this legalized," said Duzy.
The two men plan to utilize as many as 3,000 volunteers to collect the needed signatures. In addition, they are hoping to obtain some funding in order to hire professional signature gatherers.
It is no question the men have a daunting task ahead of them collecting over half a million signatures, a task that typically requires funding of at least a million dollars. However, there is "a momentum going across America" that Jolson hopes will convince the big investors that a victory in 2014 is possible.
"We honestly feel this plant can help transform and sustain humankind," concluded Jolson.