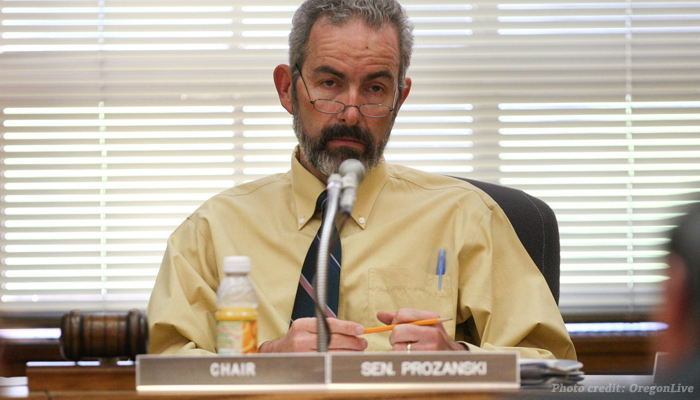 Measure Introduced To Legalize Adult-Use Of Cannabis In Oregon
Oregon Senator Introduces Cannabis Legalization Draft Bill
Oregon Senate Judiciary Chairman Floyd Prozanski (D-Eugene) presented draft legislation in a hearing Friday that would allow voters to decide whether the adult-use of cannabis should be legal in the state. The measure would task legislators with creating regulations if passed by voters in the 2014 election.
In contrast New Approach Oregon filed a similar, but more detailed measure last month. The Control, Regulation, and Taxation of Marijuana and Industrial Hemp Act specifies that it would allow the possession of up to 8 ounces of cannabis and up to 4 plants for home cultivation. Further, the cannabis system would be regulated by the state's Liquor Control Board as is the case in neighboring Washington State.
New Approach Oregon hopes that Legislature will refer their measure to the popular ballot. If so, the group would not have to collect the 87,213 required signatures needed to bring it to a vote.
Sen. Prozanski explained that he would like to see a ballot referral as well. However, he feels it makes more sense to allow lawmakers to set specific regulations if Oregon voters pass the measure. In turn, he turned his focus to drafting a bill that is in line with the 8 federal enforcement priorities.
Oregon Voters Could Decide On Legal Cannabis In 2014
Anthony Johnson, the head of New Approach Oregon, said he feels Oregon voters want to see that strict regulations and controls will be in place. Specifically, Johnson feels citizens would want to know which government agency is to oversee legal cannabis sales, how it will be taxed, and where the resulting funds will be funneled.
According to Sen. Prozanski, his draft initiative is intentionally bare; he hopes to stimulate further legislative discussion on what should be included in a potential ballot measure. For example, remains open to the addition of possession limits and protections for the current medical marijuana system.
"The public is ready for this change."– Sen. Floyd Prozanski
Sen. Prozanski explained that it would be expecting too much of voters to approve a complete cannabis regulation laws, noting that Colorado and Washington are still trying to find what works.
"The public is ready for this change," Prozanski said "Are we going to do it in a more reasonable, orderly manner through a legislative process, or are we going to have the voter look at something in which in many cases they don't have the time to go into the details of what it means."
Johnson said that he has not yet had an opportunity to review Sen. Prozanski's initiative. Nonetheless, both sides hope that they can reach an agreement about the language of a 2014 ballot referral in Oregon.