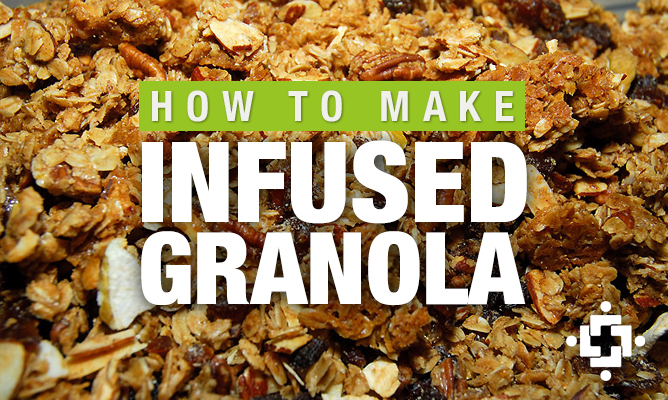 How To Make Cannabis Infused Granola In Your Crockpot
With so many candies and brownies available, it can start to feel like a candy shop at the dispensary. If you're looking for an old fashioned, freshly homemade edible that you can feel confident about consuming, you may want to consider making it yourself.
Medicated Granola can be a great way to get started – it's nutritious, hardy, and satisfying. Using a natural sweetener with your granola gives your taste buds a reason to keep coming back for more without negatively affecting your waistline or dietary restrictions.
What Ingredients Do I Need To Make Infused Granola?
The best way to guarantee that you get something delicious is to find a recipe filled with ingredients you love. I am sharing a family recipe, so it should be adjusted to suit your palate.
The first thing you'll need is a crock-pot, no smaller than 4 quarts. Remember that you can adjust the recipe to your desired amount, strength, taste, and cost. This is your time to get creative!
If you don't already have infused cooking oil (ex. coconut oil), you'll need to make that first. The list of necessary of ingredients for infused granola is as follows.
¼ cup Medicated coconut oil (substitute another cooking oil if you prefer)
4 cups Gluten Free rolled oats
½ cup Pumpkin seeds
¼ cup Whole flax seed
¼ cup Whole chia seed
¼ cup Hemp seed
½ cup Almonds
½ cup Walnuts
½ cup Pecans
¼ cup Agave nectar
½ cup Dried fruit of your choice
A dash of Cinnamon
If you use the amount of coconut oil and agave nectar specified below, the granola will be cereal-like, and not clumpy – much like trail mix. I personally tried it with double the agave nectar and coconut oil (1/2 cup each) and it still didn't clump much; you may want to add at least 3/4 cup of each if clumpy is your preference.
Making Cannabis Infused Granola In 4 Easy Steps
Step 1: Put the crock pot on its lowest setting and add your desired amount of coconut oil.
Step 2: After five minutes, add the remaining ingredients and stir until evenly mixed. Spread the mixture up the walls of the crock-pot so as to prevent more than needed from sitting on the warmest part of the ceramic bottom.
Step 3: Regularly check in and stir the mixture every five or so minutes to ensure that it is not burning at the bottom of the pot – this is not a recipe that you can leave unattended.
Step 4: In between stirs, leave the ladle inside the pot to crack the lid for the entire cooking process.
After about two hours, your granola is finished! Be sure to not let it burn; if you notice that it is turning a dark brown, remove the granola from your crock pot immediately – a light brown coloration is to be expected.
Once complete, simply let your medicated granola cool. Now you are left with an infused edible that even the most health conscious patients can indulge in.