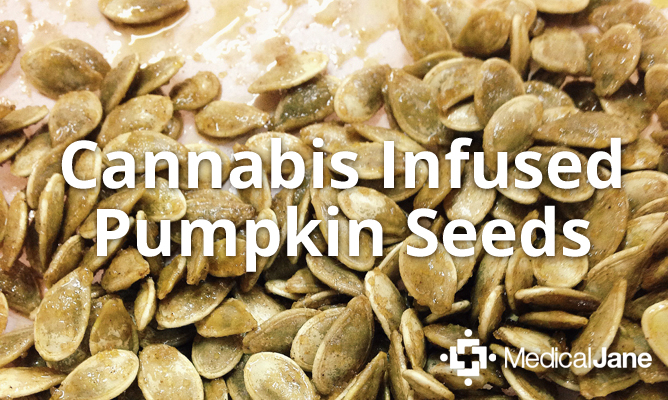 How To Make Cannabis Infused Pumpkin Seeds
With Thanksgiving just around the corner, it is time to start deciding what recipes you plan to make. For the perfect Thanksgiving appetizer, medicated pumpkin seeds are a light, healthy, and discreet option that won't spoil your dinner. Subtle snacks that don't involve a lot of prep time and will last in your pocket, easy to munch on all day long provide you with the most freedom. Pumpkin seeds are a rich source of fiber, protein, and minerals making them an excellent choice for medicating.
How To Make Infused Pumpkin Seeds This Thanksgiving
When deciding what seasoning to use on your pumpkin seeds, you really can't go wrong as long as you select flavors that you love and I can teach you how to go in a couple different directions.
Total Time: 1 hour
5-6 servings
Difficulty: easy
VEGAN GLUTEN FREE NUT FREE
Infused Sugar-and-Cinnamon Seeds
What you need:
2 cup unshelled or ¾ cup shelled raw pumpkin seeds
4 tablespoons medicated coconut oil
1 1/2 brown sugar
1 teaspoon cinnamon
¼ teaspoon salt
3 tablespoons sugar of your choice (I use blonde coconut sugar)
Infused Garlic Salt Seeds
What you need:
2 cups unshelled or ¾ cup shelled raw pumpkin seeds
3 tablespoons medicated coconut oil
4 teaspoons Worcestershire sauce or (Annie's vegan Worcestershire sauce)
¾ teaspoon sea salt
¼ teaspoon garlic powder
Directions For Making Either Flavor:
Preheat oven to 180 degrees Celsius (355 degrees Fahrenheit)
Combine the liquid medicated coconut oil and all the spices in a small bowl. Stir until evenly mixed and then add pumpkin seeds.
Toss seeds in the oil spice mixture. Make sure to coat each seed completely and then place them in a single layer on a baking sheet. (I put down a layer of parchment paper to save myself a messy clean-up later.)
Every fifteen minutes, remove the baking sheet from the oven and stir the seeds around. You'll want to continue this pattern until the seeds have lightly browned.
The longer they are cooked, the more cannabinoids will boil away and the higher the chance of overcooking the seeds, so watch carefully and only cook until lightly browned.
Allow to cool and enjoy! Store in an airtight container in a cool, dark place to extend their life.
Infused Pumpkin Seeds: Versatile and Fast Acting
If you wish to medicate with shelled pumpkin seeds, you'll have to suck on them for awhile before chewing them. This allows to you to ingest the cannabis oil sublingually, affording a quicker and more dependable onset time, as well as limiting the possibility of over-medicating.
Pumpkin seeds carry the highest amount of tryptophan, one of the nine essential amino acids, of all foods with 110mg in each 1/4 cup. Tryptophan is most commonly known for being in turkey, and helps the body produce serotonin, a neurotransmitter chemical which helps regulate mood and healthy sleep patterns.
This is ideal for Thanksgiving, when you want something easy to snack on that won't fill you up. As always, start low and go slow. I recommend using medicated coconut oil because you are aiding your heart health and digesting two antibacterial super foods: cannabis and coconut oil.
Don't be afraid to play with the seasonings or experiment with this recipe year round. It's hard to find a healthier seed that tastes so good. This Thanksgiving I am thankful for medicated pumpkin seeds!