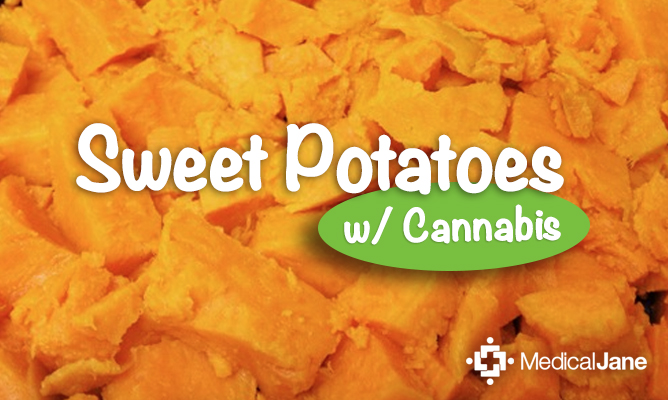 How To Make Cannabis Infused Sweet Potatoes That Are Vegan, Gluten-free
Total time: Approx. 1 hour
Servings: 3-4
Difficulty level: Easy
Vegan, gluten free, nuts optional
What You Will Need:
2-3 medium to large sweet potatoes
2 tbsp raw brown sugar
2 tbsp shredded coconut (optional)
3 tbsp infused coconut oil
¼ cup maple syrup or agave nectar
1/3 cup chopped walnuts or pecans
Infused Sweet Potatoes Recipe:
Preheat oven to 350 degrees.
In a large saucepan, cover sweet potatoes with water. Bring to a boil, and then reduce heat and simmer, covered, until tender (25-30 minutes.)
Strain and then allow to cool. Once cooled, peel and dice potatoes.
Spray an 8×8 baking pan with non stick spray and arrange the diced potatoes evenly.
In a small saucepan, blend coconut oil, syrup, brown sugar, and shredded coconut over low heat, stirring constantly until evenly blended. Approximately 3-5 minutes.
Pour mixture over sweet potatoes and then coat with nuts, if desired.
Bake 5-7 minutes at 300 degrees. Serve warm.
Cannabis-Infused Sweet Potatoes: The Final Outcome
It can be hard to believe sweet potatoes are so healthy when they taste so delicious. While they have more natural sugar than a regular potato, sweet potatoes are more nutrient-dense and contain less calories. Beta-carotene is responsible for the orange color of sweet potatoes and converts into Vitamin A in the body; a medium size spud gives you more than 400% of your daily value. For this reason, infusing sweet potatoes with cannabis gives you an even bigger edge on your natural vitamin intake for the day.
If you are serving diabetics, or simply wish to use a healthier syrup, consider using coconut nectar. Coconut nectar is one of the lowest glycemic options available, if not the lowest. Either way, this dish is sure to be a big hit over the holidays.
For more on information regarding the consumption of cannabis, please refer to Medical Jane's Cannabis Classroom.