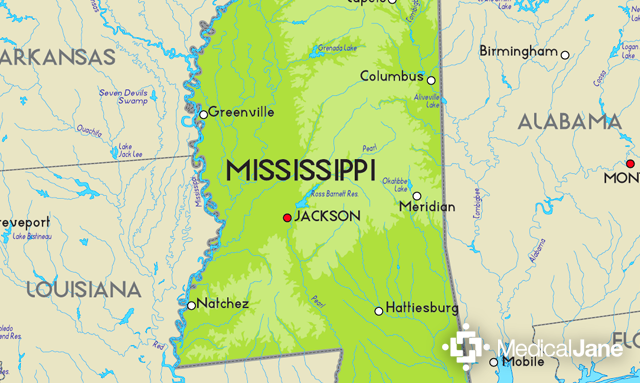 Senate Bill 2318 To Allow Mississippi Patients With Serious Conditions To Obtain Cannabis
JACKSON, MS – A medical marijuana bill that would allow seriously ill patients with specific conditions to have safe access to cannabis products has been introduced in the state of Mississippi earlier this week.
New Medical Marijuana Bill Introduced in Mississippi
Senate Bill 2318 (SB 2318), which has been introduced by Mississippi State Senator Deborah Dawkins (D-District 48), would allow patients with qualifying serious medical conditions to grow and possess limited amounts of cannabis under a licensed physician's guidance, if passed.
Under SB 2318, qualifying debilitating medical conditions include cancer, glaucoma, HIV/AIDS, or a chronic disease, condition, or treatment that produces one of the following: cachexia (wasting syndrome), severe pain, severe nausea, seizures, or severe and persistent muscle spasms. As administers of the program, the state department of health would be able to establish additional conditions without approval from state legislature.
Instead of medical marijuana dispensaries, SB 2318 would allow patients to cultivate their own limited amount of cannabis plants, while being able to possess an "adequate supply" of marijuana, which would be determined by their physician.
Specifically, patients would be limited to three mature and four immature cannabis plants. In addition, patients would be permitted to possess up to thirty grams of "usable marijuana" per mature plant. According to the bill, "usable marijuana" means, "the dried leaves and flowers of marihuana, and any mixture or preparation thereof, that are appropriate for the medical use of marihuana, and does not include the seeds, stalks and roots of the plant."
SB 2318 To Replace Existing Limited "CBD-Only" Bill
In July of 2014, a very limited "CBD-only" bill (HB 1231) took effect in Mississippi. Under HB 1231, the possession and use of cannabis oil extracts which contains less than 0.5% THC content and more than 15% CBD content is permitted for patients specifically suffering from seizure disorders, including epilepsy.
However, advocates have voiced their reasoning as to why CBD-only legislation is non-effective. It's the main reason why Senator Dawkins is continuing her push for legalizing a less-restrictive medical marijuana program for all qualifying conditions.
Dawkins has let her intentions known because she wants to help patients feel comfortable in discussing alternative treatments with their healthcare providers, without the fear of getting in trouble. "I think most people want their doctors to help them make their health care decisions," states Dawkins. "To me, we're taking something away from the patients and their physicians," she continues.