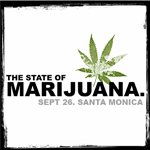 About this Event
Considered to be the fastest growing industry in the United States, the legal cannabis market has grown to a worth of $2.7 billion. Four states have legalized marijuana for adult use, and 20 states have legalized it for medical use. It is projected that by 2016, California will have legalized marijuana for adult use.
Following the success of a sold out event, the State of Marijuana returns for a second year to bring you another exclusive conversation on the marijuana industry and marijuana policy. Whether you are an entrepreneur, advocate, or spectator, this event will provide exclusive networking and key insights into the cannabis political environment, medical marijuana research, business strategies, and new technologies innovating the industry. Be a part of the conversation. Learn and experience the future of marijuana in California and beyond.
You can learn more about the event at their website: http://www.cureativ.com/somj#aboutsomj.
Event Hours
SAT SEP 26

12:00 AM

-

12:00 AM