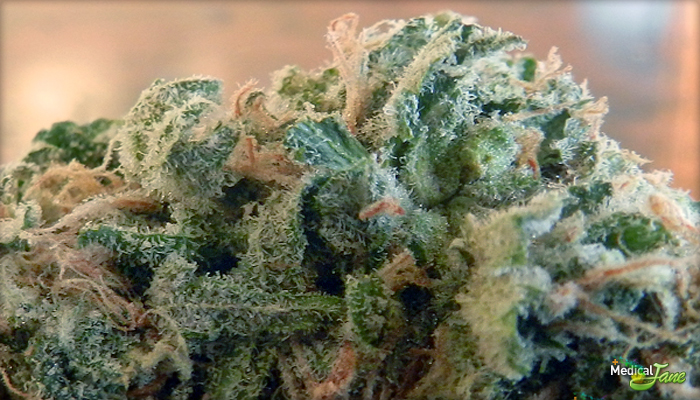 Blue Cream Strain Looks, Tastes, & Hits Good
Blue Cream is a Sativa-dominant hybrid that is known to mainly affect your head — not so much your body.
The Blue Cream Strain Stems From Blueberry And AK47
As you may or may not know, the Blue Cream marijuana strain stems from Blueberry (Indica) and AK47 (Sativa)… two of my favorite classic strains. As you can see from the picture, the Blue Cream buds are covered in a ridiculous amount of white, sparkling trichomes. Generally speaking, I love most strains that mix with AK47, because of the tranquil zone it always puts me in. It's always a very peaceful, hazy head high; that's probably why many breeders select the AK47 strain as a stable, subtle breeding mate to something with more flavor or punch.
"The Blue Cream strain seems to have a blue tint to it; most noticeable when light reflects off of each of the trichome-covered buds."
Blue Cream is definitely a marijuana strain what we would feel comfortable calling top-shelf. The bright and vibrant flowers gives the patient instant gratification, knowing your about to medicate with something as aesthetically beautiful as this strain.
The Blue Cream strain of cannabis does more than just pass the look-test. Just a few hits of into the session and my mind began to race with an overwhelming amount of ideas and energy.
How Will The Blue Cream Cannabis Strain Affect Me?
As experienced cannabis connoisseurs may already expect, the Blueberry in this strains genetics will also provide a subtle body buzz that helps patients deal with minor pain and/or other body ailments. Whereas the AK47 in the genetics of Blue Cream tends to provide more of a clear-headed rush of energy, typical of most Sativa-dominant strains.
The smoke from each Blue Cream hit is very smooth and sweet, reminding me most of the Blue Dream strain. This would make sense, since Blue Dream is comprised of very similar genetics, specifically Blueberry and Haze. Regardless, Blue Cream is definitely one of the tastier strains I have reviewed in California. It's safe to assume that we are on the look-out for more Blue Cream to take better pictures.