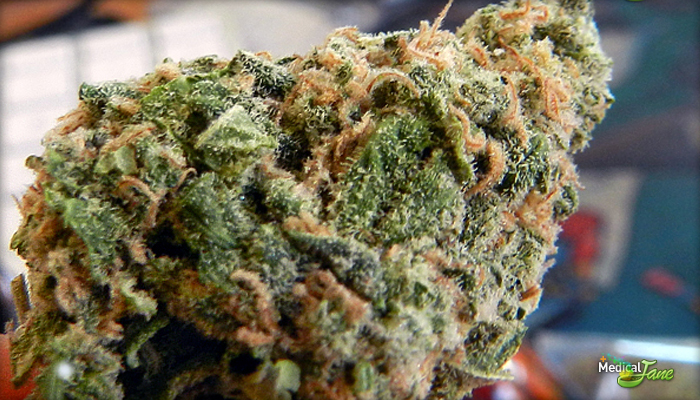 LA Confidential Plays Well With Cheese
Ever try bud that reminds you of spicy cheese before? Well, this will. As the name would suggest, LA Cheese genetics consist of the popular cross between LA Confidential and Cheese. Knowing the strains lineage can give you a great deal of information as to what to expect out of a strain.
LA Cheese = LA Confidential x Cheese

For instance, if you know how a certain strain's parents effect you, you'll have a much better idea of what you have coming to you.
"The smoke from LA Cheese was delicious; reminiscent of cheddar cheese, pepper, and a fruitier earth."
I'm already very familiar with LA Confidential and Cheese separately, so to imagine what their offspring will be like doesn't take that much of an imagination. As far as this batch goes, the smell was very intriguing; it's a bit spicy and 'kush-like' (presumably from the LA Confidential) with undertones of fruitier cheese.
What patients can expect from the LA Cheese strain
Being a Indica-dominant Hybrid, the effects of LA Cheese are full-bodied and slightly stoney. It's pleasant on the mind while being heavy on the body. Very euphoric, uplifting thought process that makes the mind spacey and your smile wider. All the while, the muscles in your body seem to release tension and begin to relax. All of the stress from the week just seems to evaporate a few seconds after a hit from the toro bubbler.
Despite the effects of LA Cheese being really heavy (considered ~90% Indica / 10% Sativa), it has the unique ability to keep you up-beat and motivated to get work done. It's not as tiring as some strong Indica-dominant strains, making LA Cheese most popular among patients seeking pain-relief all day without feeling like its time for a nap.
LA Cheese is also believed to be a good strain for patients suffering from chronic pain, anxiety, and stress.