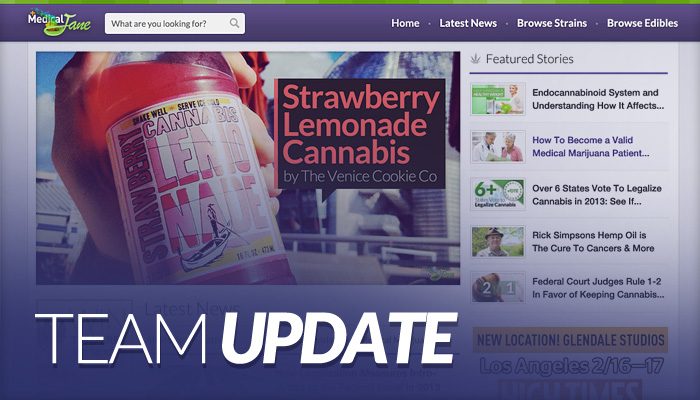 Medical Jane Gains 100,000 Facebook Followers, Updates Website, and Sponsors New Sweepstakes
Since December of 2012, our team at Medical Jane has gained over 100,000 Facebook followers and over 20,000 Twitter followers — but who's counting? We couldn't be more excited to watch the website and marijuana movement continue to grow as quickly as it has. We have truly tried our best to keep all of you medical marijuana patients and cannabis activists out there informed on the developing cannabis laws and regulations. In doing so, we've made some friends along the way.
We plan on teaming up with a couple of great companies in the next couple of months to provide an even better experience for everyone apart of Medical Jane. Expect lots of free product giveaways in the future, starting with these two FREE 2-day passes to the next High Times Cannabis Cup.
Medical Jane Launches An Improved Website
To continue growing, we have spent the last few weeks mainly focused on providing an update to the Medical Jane website. The changes and improvements are live and available for all to see on MedicalJane.com (since this morning). With this new update, users can expect a much more visual experience, author profiles for each new article or strain review, and a much easier way of navigating throughout the website. Additionally, the new website update will contain a layout that has non-obtrusive, built-in advertising positions available to interested Medical Jane sponsors.
Enter To Win Two FREE Tickets To The 4/20 Cup
We would like to take this time to thank our dedicated followers for sticking with us throughout the earliest stages of our site. To give back, we have teamed up with High Times and put together a great give-away for you.
The randomly selected winner will receive two FREE 2-Day passes to the 1st Annual High Times U.S. Cannabis Cup on April 20/21 in Denver, Colorado. We encourage all Medical Jane fans to participate in this sweepstakes. Share the giveaway on your wall to increase your chances of winning. Look forward to seeing the winners at the cup.