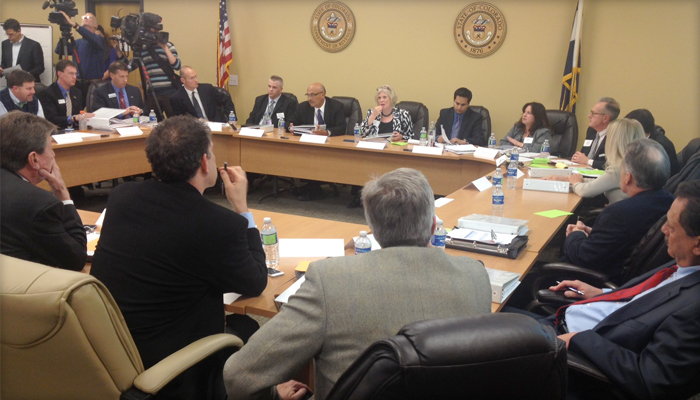 Colorado Task Force Submits Their Final Report On The Implementation Of Amendment 64
Colorado's Amendment 64 Implementation Task Force officially completed its final report on the full implementation of the state's new recreational bill on March 13th.
The group had until February 28th to complete the task of creating regulations for how the state ought to implement the new recreational law. That's right, ought to. The task force's report is simply a rough draft, or a recommendation, for the state lawmakers to use in their decision-making. Final marijuana regulations will be decided by a special marijuana committee that has been created in the state to deal with nothing but cannabis regulation.
Task Force Issues 58 Recommendations For How Adult-Use of Cannabis Should Be Regulated
The165-page report released Wednesday, includes 58 proposals surrounding tax rates, out-of-state consumers, as well as potency and labeling standards for products such as edibles. While the proposal came a month earlier than required, task force co-chairs Jack Finlaw and Barbara Brohl claim the recommendations are good-to-go.
"This is a very comprehensive report, developed in a rapid time-frame, that lays the groundwork for the establishment of a robust regulatory framework, with adequate funding for marijuana industry oversight and enforcement, consumer protection, and prevention and treatment programs for young people," said Finlaw in a statement.
Task Force Recommendations For Dispensaries
It was recommended that, for the first year, "only entities with valid medical marijuana licenses should be able to obtain licenses to grow, process and sell adult-use cannabis." New permit fees will be around $5000, and you must be a Colorado resident in order to obtain a license or work for a dispensary (for the first year). They also suggested that the General Assembly adopt the current 70/30 "vertical integration model", as required by the current medical marijuana code. They are requiring what they call, "common ownership from seed to sale," which means that the cultivation, processing, manufacturing and retail must be under a common enterprise under common ownership.
"Only entities with valid medical marijuana licenses should be able to obtain licenses to grow, process and sell adult-use cannabis."
The Task Force is recommending that testing be mandated as well as the labeling for potency and the presence of any banned substances. Professional packaging such as jars or pop-top bottles will be required as well; sorry, no more baggies. Also, any and all marijuana related products sold from the retail stores must be in childproof packaging and display warning labels disclosing cannabinoid content as well as any pesticides, herbicides, fungicides, and solvents used in the cultivation and processing.
Another restriction they suggested is that if you open a recreational facility where you allow adults to smoke on the premises, smoking tobacco will not be permitted. Similarly, smoking marijuana will not be permitted in any establishment where tobacco smoking is currently banned because of the Colorado Clean Indoor Air Act. The report also states that, "there should be no exemption that would allow the smoking of marijuana in "cigar bars," smoking clubs, or similar establishments where tobacco smoking is allowed."
Task Force Recommends Harsh Restrictions For Cannabis "Edible" Makers
The Task Force suggested in their report to limit edible makers to 10mg of active THC per "serving". The product labels will be required to clearly label the amount of servings in any single product as well as the serving size for items packaged together.
They also recommended the General Assembly give the Colorado Department of Revenue the authority to create regulations establishing appropriate limitations on the total THC content that can be contained in a single package containing multiple servings. However, they did say that the limitations should only apply to "non-medical food-type products that are infused with activated forms of THC that are also packaged in smaller serving sizes, and therefore have a reasonable possibility of being over-consumed accidentally." In addition, no limitation to be established should be any lower than 200mg of total active THC per package.
The report states that the limitations "should NOT" apply to products sold in pill or capsule form. Instead, the limitations "specifically contemplate that larger multi-serving food-type products (entire cakes, pizzas, or other large multi-serving items) shall be permitted if labeled in accordance with applicable laws and regulations." Marijuana concentrates, tinctures and topicals will not be affected by the limitations either.
Every Added Tax Dollar Will Be "Passed On To The Consumer"
The Task Force recommended a 15% excise tax be added to every transaction, with the first $40 million brought in each year dedicated to the state's school capital construction fund. They also recommend that the General Assembly consider sending an additional marijuana sales tax to the ballot for voter approval in November. An additional tax would mean a $30 eighth, that already has a $4 wholesale tax attached, would turn into a $40 purchase. They are suggesting a 25% "marijuana tax" be added in addition to the 8% Denver sales tax. This would mean that a total of $13.90 would go into the government's pocket on every sale at this quantity.
"Every dollar added in the form of tax will be passed on to the consumer."– Christian Sederberg
The author of Amendment 64, Christian Sederberg feels that a 2-3% tax would be just fine, adding only about a dollar to every purchase. "Every dollar added in the form of tax will be passed on to the consumer," he said. Sederberg believes that lower taxes would still raise millions of dollars for the state without making the price so high that people would be able to find it cheaper on the black market.
No customers, in-state or not, will be able to purchase more than an ounce at a time since that is the limit for personal possession of cannabis under Amendment 64. However, harsher restrictions were recommended that would limit out-of-state purchasers to as low as one eighth of an ounce per transaction. Open packages of cannabis in a vehicle would be prohibited as well, similar to an open-container of alcohol.
It's Up To The Colorado General Assembly To Perfect Recommendations
It is now the duty of the Colorado General Assembly and the Governor to perfect and implement the Task Force's recommendations through legislation. This super committee of legislators will be holding their first meeting on Friday at the capitol to try and figure out how to tax and regulate marijuana, working with the rough draft provided by the task force.
It will be interesting to see how the Feds respond to the General Assembly following through on the task force's recommendations. In an interview with the Denver Post, House Minority Leader Nancy Pelosi (D-CA) said, "the state (Colorado) has spoken. The law has been passed…There are issues with taxation and regulation, and we need to get on with it."