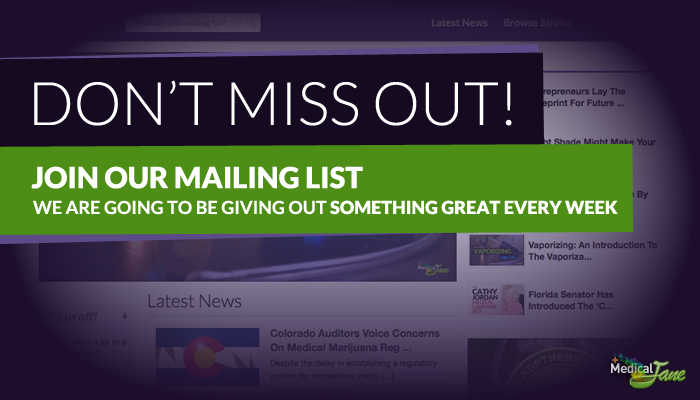 Medical Jane To Sponsor Weekly Sweepstakes With Free Prizes
After an extended (one month) contest held on our facebook and our twitter accounts, the contest is now over. Medical Jane has randomly selected Cassy (from Colorado), to attend the upcoming Hightimes Cannabis Cup on 4/20. Shout out to High Times for providing the tickets and setting up the event for everyone to participate.
How You Can Enter The Next Sweepstakes (Happening Now)
Interested in participating in the next giveaway for a free cloud vaporizer pen from Cloud V Enterprises? You should be. It typically retails for ~$70, but we are giving it away for free to one lucky fan. Expect us to be giving away a lot of free stuff, including portable and stationary vaporizers, high-end glass, hemp wick, dabbing tools & accessories, and more… each and every week. You won't want to miss out on a single announcement. We have made it really easy for you to stay in the loop by first joining our newsletter (enter email into the green box on the right-hand sidebar), and then join the contest each week you want to participate. It's as easy as that!
1st Official MJ Giveaway Highlights & Recap
February 15th – Contest for 2 FREE 2-day passes to the High Times 4/20 Cannabis Cup begins and is available to all entrants who are a subscriber to our newsletter and opted in to the contest.
March 15th – Medical Jane announces that the contest will be extended an additional 5 days for any last-minute entrants. After all, we don't want to leave anyone behind.
March 20th – A contest winner is randomly selected by the script and they are notified via e-mail to claim their free tickets to the cup.
March 24th – Still no word from the original winners. We send out notification to a second winner as a back-up and post this message on our facebook: "We have selected a winner for the 2 FREE 2-day passes to the High Times 4/20 Cannabis Cup. We e-mailed them over 48 hours ago. Unfortunately, we have not heard back yet from the winner. We will be selecting a new winner in the next 24 hours if we do not hear back from them by midnight."
March 26th – Cassy, the original winner gets back to us to claim her prize and secures her spot to the cup. We post this message on our facebook, and finalize the contest to get ready for the next big giveaway: "We had a surprising amount of entrants from Colorado. Our secondary selections were all outside of Colorado but the original responded before they got back to us. The winner was chosen at random. When we start our giveaways (vaporizers , domes/nails, glass, etc), we are sure we will see a more diverse number of entrants (since we can ship those anywhere in the US)."
April 3rd – Getting ready for the cup. #StayMedicated