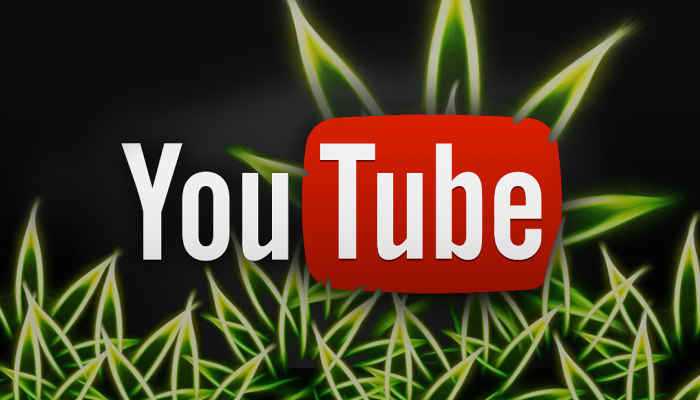 Top 5 Cannabis YouTube Channels You Should Follow
I am pretty sure that YouTube was made for people who like weed. Not only is it hilarious to watch videos of screaming goats with friends after a smoke session, but I actually enjoy watching videos of other stoners around the world smoke their favorite herbs. I can't be the only one who feels this way. It's something I really don't understand. You could ask "why is the sunset good?" and I would give you the same answer: It just is.
A few cannabis enthusiasts have turned this hobby into an art, and have gone above and beyond the call of a "fat dab" video. The following YouTubers have all been personal favorites of mine for a long time now, and each of them have done so much for the cannabis movement in their own ways.
My list of the Top 5 Cannabis YouTube Channels is not in any particular order of importance or popularity. They are simply my five favorites. Ihope you enjoy them as much as I do. Note: Keep in mind this list was created in April, 2013 — I'm sure there will be many more great YouTubers in the near future.
Tokin Daily YouTube Channel

Paul Tokin (tokinGLX) is one of the biggest faces in the cannabis world on YouTube. He has been making videos for almost seven years now, and is all about "spreading seeds of One Love, one video at a time." Paul Tokin is a Denver native and makes videos every day of his toking adventures. He is working to inform people that cannabis "is not the demonized substance that the United States has made it out to be since the late 30's."
Coral Reefer YouTube Channel

Coral Reefer (CoralFisp9) aka Coral Fish runs a Q&A show every Sunday called "Stoney Sundays" where she takes cannabis or patient related questions (also culture related questions). I, like most stoners out there, naturally have a little crush on Coral and love what she is doing. What's not to like? She represents women in the cannabis community, the every day user, and is working to normalize the face of the patient.
I saw Coral speak at the Cannabis Cup this past weekend where she stated in her live Stoney Sunday episode that she's working to, "normalize what it is to smoke weed every single day. To enjoy what I do, and not wanna hide it. Not wanna have to have a stash box that I put away, have to spray perfume in my room, hide bongs if something breaks in my apartment before the apartment manager comes over…I'm sick of that!" Coral also runs a blog called coralreefer420.com.
R3DBAND YouTube Channel

R3DBAND is another relatively new YouTube channel that has gained popularity in the past two years. The R3DBAND channel had its beginnings as a channel the two brothers, Dan and Mark, used to wish Paul Tokin (TokinDailyglx) and Coral Reefer (CoralFisp9) happy birthday with. Since then, the channel has gained popularity as the two likeable stoners have continued to share stories and rip bowls of medical cannabis out in Fort Colins, Colorado. Unfortunately, the two are currently in a brotherly quarrel, as all brothers do, but I have a feeling the two will smoke a bowl and everything will be fine soon enough. I had a chance to meet Dan at the Cannabis Cup this past weekend when he was passing out dabs at the RiverRock booth; he's a good guy. I mentioned that I would like to see the brothers back together; hopefully they will settle their differences soon.
TheCCC420 YouTube Channel

The CCC is a weekly program run by friends Shane, Dan and newer member Magweedo, plus a number of guest features (S/O Toph & Bob). The CCC is best known for their Wake n' Bake Wednesdays, Full Melt Fridays, flower reviews, and glass reviews. The guys aim to spread the word of cannabis, its benefits, and promote safe access to cannabis. The guys commented on one of their videos stating, "Yes, we smoke weed all day everyday. And we're still here to tell about it… That in and of itself dispels much of the propaganda out there in relation to habitual marijuana usage."
Strain Hunters (Greenhouse Seeds Co.) YouTube Channel

The Strain Hunters YouTube channel is a branch off of the Greenhouse Seeds Co. YouTube channel, and features the owner of Greenhouse, Arjan Roskam, and his right-hand man, Franco, as they strive to preserve the vulnerable landraces of cannabis across the globe. The two friends visit some of the most remote areas of the world with the intent of locating and retrieving cannabis strains that grow naturally and have not yet been studied. Their YouTube channel reads, "One day these plants could be helpful in developing better medications for the sick and the suffering. We feel it is our duty to preserve as many cannabis landraces in our genetic database, and by breeding them into other well-studied medicinal strains for the sole purpose of scientific research."
A couple others I really like and that are worth following are FarmerJohn Fourtwenty, VapeLife Will, Subcool420 (heard him say this weekend that Tokin Daily was his inspiration for his show), Urban Grower, and Knottyy.