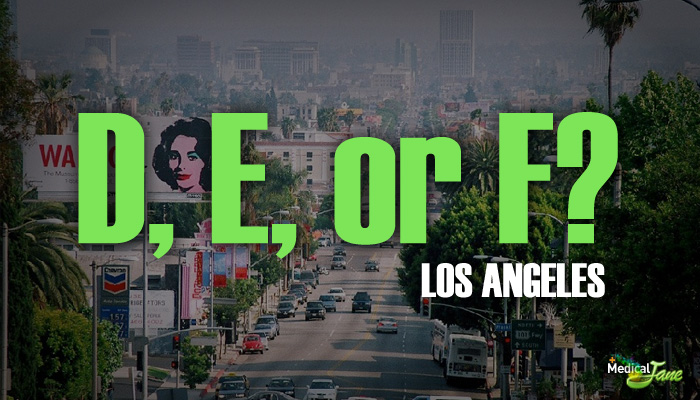 LA Dispensaries Threatened By Competing Propositions – D, E, and F
The patients of Los Angeles will decide the fate of hundreds of marijuana dispensaries on May 21st as three competing medical marijuana measures are up for vote on the ballot – D, E, and F.
Approximately seven days from now on Tuesday, May 21st, your rights to safe access as a medical marijuana patient in Los Angeles will again be at risk. Despite repeated efforts by the city to both limit and ban medical marijuana dispensaries in the past three years, there are an estimated 850 dispensaries (possibly upwards of 1,500) operating in Los Angeles. Next Tuesday, three proposed ordinances are to be voted on that would regulate these de-facto dispensaries in an attempt to bring some austerity to a previously wavering industry.
If none of the ballot initiatives pass on May 21, the City Council may revive its efforts to ban dispensaries completely after the California Supreme Court ruling allowed them to do so. To win, a proposition must get more YES votes than NO (obviously). However, if more than one proposition gains support, the one with the highest total of YES votes will be the winner. If the NO votes outweigh all of the YES votes for every proposition, then nothing changes. That is why it is important for you to come out and vote one way or another; your access depends on it.
What Are The Main Differences Between D, E, and F?
Ordinance E was originally put onto the ballot by the United Food and Commercial Workers, but was pushed to the sideline when its supporters agreed to back Measure D instead. Measure D was crafted by the same Los Angeles City Council that pushed to ban medical marijuana dispensaries in 2012 and has been described as a "Trojan Horse" designed to shut down the majority of LA dispensaries and then force the others out of business through council action and federal raids. Its backers include both mayoral candidates as well as the city attorney.
Measure D, or the "Medical Marijuana Collectives Initiative Ordinance" would limit the number of dispensaries allowing only the 135 dispensaries that were operating and registered under city laws before September 2007. The proposition would force nearly 90% (or some 1,000 shops) of the shops that exist in the city out of business. The remaining dispensaries would be forced to pay taxes of $60 per $1,000 of sales, close at 8 p.m., require background checks of their dispensary managers and employees, and would be restricted from opening within certain distances from schools, parks, libraries, and other dispensaries.
Measure F, or "Regulation of Medical Marijuana for Safe Neighborhoods and Safe Access," was created by patients and members of collectives. In some ways, Measures D and F are similar: they both raise the taxes from $50 to $60 per $1,000 in sales, and both impose zoning restrictions to keep dispensaries away from schools and other certain locations. However, the main difference is that Measure F will allow an unlimited amount of dispensaries. The ordinance would require a 10 p.m. closure, background checks of all managers, employees and volunteers, and each dispensary would be required to file with the City Controller an audit of its operations to guarantee compliance with the law. Additionally, Measure F requires dispensaries to have their medicine tested for harmful pesticides and toxins.
What Will This Mean For Los Angeles?
Supporters of Proposition D are aware that the passing of the ordinance would bring about mass federal raids on their state. But they support their ordinance by stating that, "Proposition D would reduce the nuisance that has helped prompt federal action."
According to the LA Times, a special assistant to City Attorney Carment Trutanich said that if Proposition D is to pass, the city is not going to seek to shut down dispensaries who are following the law. The assistant, Jane Usher, added that the proposition "has been sanctioned" by the Supreme Court ruling last Monday, and that if the court had ruled that municipalities could not legally ban dispensaries, Proposition D could've been challenged.
"We're hoping that the state will adopt a state regulation system that will calm local concerns about permitting dispensaries and create clear regulations." – Dale Gieringer
Dale Gieringer, director of the California chapter of the National Organization for the Reform of Marijuana Laws, stated that since there is no definite declaration that California dispensaries are permitted in the first place, nothing is going to change as a result of the ruling.
This de-facto situation is because the task force that was put in charge of clarifying the medical marijuana program that passed in 2003 couldn't come to a consensus on how the cannabis would be distributed. "We're hoping that the state will adopt a state regulation system that will calm local concerns about permitting dispensaries and create clear regulations," said Gieringer. "We'd like to see state regulations like they have in Colorado."
Brad Hertz, the attorney for Proposition D told the Huffington Post, "From our perspective, Proposition D is the best way to secure access to medical marijuana. If it passes and has the most votes, it means the City Council, if they were to amend or repeal the measure, would have to go to voters for any change."
"If (Proposition) D passes, once the dispensaries close, they will never be allowed to open again, eliminating access forever in the city of Los Angeles." -David Welch
David Welch, the attorney representing Proposition F (and a number of dispensaries in LA) argued that Proposition D is only going to lead to an eventual ban on all dispensaries by allowing federal raids on the dispensaries the proposition doesn't cover. "If (Proposition) D passes, once the dispensaries close, they will never be allowed to open again, eliminating access forever in the city of Los Angeles," said Welch.
While this is true, if none of the propositions pass we are probably going to see a total ban on dispensaries in the city. It's a lose-lose situation for some people involved.
We encourage everyone to call your local dispensaries to get their opinions on the ordinances. Be sure to ask them if they are one of the original 135 dispensaries, this may influence their opinion just a bit. We spoke with a manager of Buds & Roses Collectivein Studio City (congratulations to the big winners at the Denver Cannabis Cup) and she spoke strongly in favor of Proposition D. "It's a matter of trying to work with the city to keep them happy and stay open," she said. She informed me that Buds & Roses Collective are in fact one of the first dispensaries in the city; she said the twelfth.