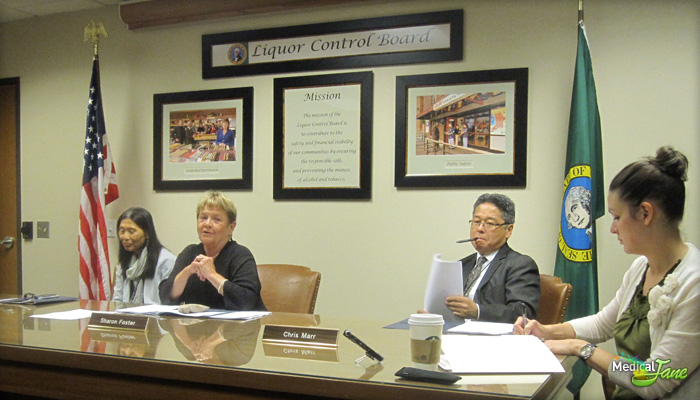 Washington Liquor Control Board Releases First Draft Of Regulations
The Washington Liquor Control Board released their first draft of rules and regulations for the state's new recreational cannabis industry last week.
The draft regulationscame after a long awaited 8 months after Washington voters legalized the recreational use of cannabis for adults in November. Since then, the staff at the state Liquor Control Board has spent countless hours "studying the science of getting high" and have visited many grow houses to get some first hand experience. Apparently, the board has learned so much that they have nicknamed the board's chairwoman, Sharon Foster, "the queen of weed".
"They are based upon hundreds of hours of internal research and deliberation, consultation with multiple industry experts and input from over 3,000 individuals who attended our forums statewide," said Foster when asked about the draft regulations.
The rules cover everything from limiting a "serving size" of cannabis and rules on waste disposal to requiring a label that says, "may be habit forming," on any marijuana product sold at a state-licensed store.
What Do The Regulations Look Like?
Like Colorado, there will be a "seed-to-store" system put in place, but retail stores would not be permitted to grow their own cannabis. Unlike Colorado, where they are required to cultivate at least 70% of their inventory, Washington cannabis shops will be required to buy their medicine from licensed producers and processors.
All cannabis and related products will be required to be lab tested through a third-party, certified laboratory. Each certified lab must employ a Scientific Director who has earned a doctorate in chemical or biological sciences to be responsible for ensuring the maintenance of quality standards. Additionally, a laboratory may not have any direct or indirect financial interest in the company for whom they are conducting required quality assurance tests.
"They are based upon hundreds of hours of internal research and deliberation, consultation with multiple industry experts and input from over 3,000 individuals who attended our forums statewide."– Sharon Foster
After having their cannabis and related products tested, retailers would be required to disclose the name of the accredited third-party lab and test results if the customer requests such information. Similarly, retailers may not label any of their products as "organic" unless it is certified as such by the Washington State Department of Agriculture.
Marijuana retail stores will only be licensed to sell useable marijuana, marijuana-infused products, and marijuana paraphernalia to persons twenty-one years of age and older. Stores will be permitted to sell marijuana extracts, such as hash, hash oil, shatter, and wax if they are infused in products sold. Despite that, the extracts will not be permitted to be sold if they are not infused in products.
A single serving of cannabis-infused product would amount to no more than 10 mg of active THC, and products can contain no more than 10 servings or 100 mg of active THC. All infused product packaging will be required to protect the product from harmful contaminates and may not expose the product to toxic substances. In addition, all usable cannabis and infused products would need labels with the following warnings: "Caution: When eaten, the intoxicating effects of this drug may be delayed by two or more hours;" "For use only by adults 21 and older. Keep out of reach of children;" "This product is unlawful outside of Washington State," or, "May be habit forming."
All labels would be required to display the business or trade name and Washington state unified business identifier number of the licensees that produced, processed and sold the cannabis; the lot number; the concentration of THC, THCA, CBD, CBDA, CBN, CBG and other active cannabinoids (potency/cannabinoid profile); and the net weight.
Customers over the age of 21 will be limited to buying up to one ounce of marijuana, 16 ounces of infused product or 27 ounces of liquid products during a single transaction. All marijuana sales — both retail and wholesale — would be taxed at a rate of 25%.
Official Draft Rules Will Be Filed In June
Washington will hear public feedbackuntil June 10th, at which point the final rule-making process will begin. Recreational cannabis sales will begin in Washington in early 2014 unless the DOJ has other plans for the state.
Governor Jay Inslee was proud of the board's work and stated that it couldn't have been done much better to allay concerns of the feds. "I don't think you could design a system with much more integrity as far as tracking the product from the producer to the consumer. I think this plan has a robust system of control and checks in a variety of ways," Gov. Inslee told the Seattle Times.