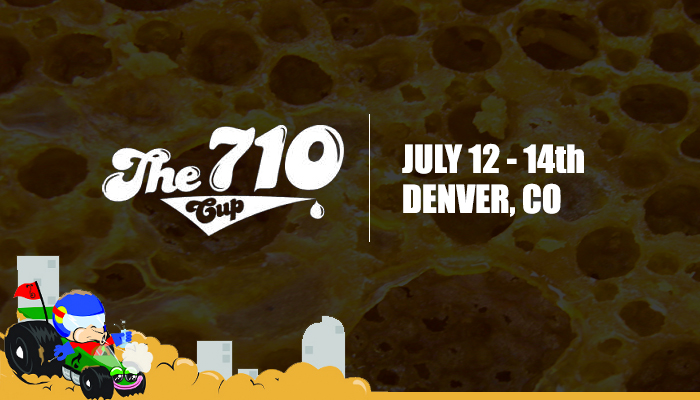 The 710 Cup: "A Multiday Celebration of Cannabis Concentration"
The 710 Cup is going to be a two-day cannabis and music celebration in Denver, CO, brought to you by Grassroots California & Hitman Glass.
This "multiday celebration of cannabis concentration" is scheduled to begin on July 10th and will last all weekend until the 14th. Vendors will include seed companies, dispensaries, glass blowers, clothing companies, painters, arts & crafts vendors and tons of musical artists. Late-night parties are also going to be held at The Gothic featuring some great headliners from across the country.
Dabs Of Denver Event On 7/10
On Wednesday, 7/10 (Newbie Hint: when you turn 710 upside down, it spells 'Oil'), the festivities will be kicked off with the 'Dabs of Denver' event being held by Top Shelf Extracts. Colorado's premier extract companies will be coming out, such as: River Rock, Natural Selection, Growing Kitchen, At Home Baked, Essential Extracts, Denver Relief Labs, Emotek Labs, 710 Labs, Stay Concentrated, & Top Shelf Extracts.
All attendees will receive a ballot at the door and will be able to vote on the best booth. Tickets are available for $20 here, and are a separate purchase from the 710 Cup tickets.
Friday Night Judges Dinner & VIP Party
For those who purchased the 710 Judges Pass, a Friday night dinner is being held at the Wright Group Event Center (4800 Colorado Blvd) from 7:10 to 9pm. Judges will receive a full catered dinner while they dab away all the entries. At 9pm the party will open up to all VIP ticket holders and will last until 1am. Tickets are available for $20 to the public (must be a Colorado Red Card holder).
The 710 Cup Competition
The actual 710 Cup competition is being held at the Wright Group Event Center and will begin at 11:30am on Saturday with cultivation seminars, activism sessions, live glass blowing demos from some of the best in the industry (Bates & Worm, Adam G, J-Red, K Sass, Merc, Mike Fro), non-stop live music, stand-up comedy, live collaborative murals from Colorado artists, and an outdoor medicating area where local companies will be showing off their new lines of products.
Late night parties will be held on Friday, Saturday & Sunday at the Wright Group Event Center from 10pm-1am and are free for judges and VIP or $20 to the public.
Volunteering & Safe Rides To And From Event
Although tickets are still on sale, if you cannot afford to attend the event, you may be able to volunteer and attend for free! Volunteers will receive a 2 day pass & access to all late night parties, plus a $15 Grassroots California gift card. More information is available here.
Also, Grassroots California cares about how you are getting to and from their event, so they are providing FREE shuttles for all 710 cup attendees that will be leaving every 30 minutes from the 710 cup and every hour from their flagship store.
Big-ups to Grassroots California and Hitman Glass for throwing together a celebration that the 710 community deserves to have. We hope that everyone that is able to attend has a great time.