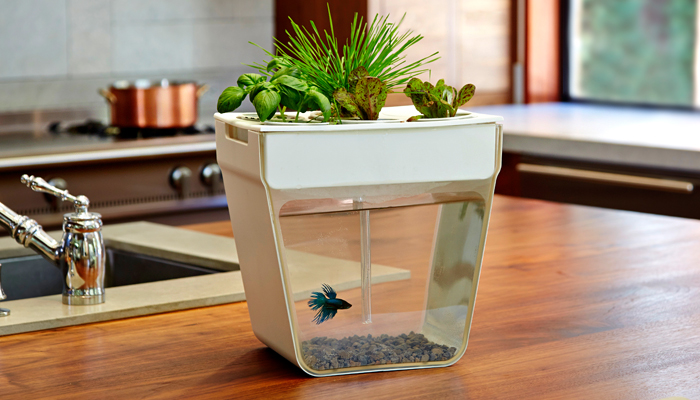 Self-Cleaning Fish Tank Grows Organic Plants
The AquaFarm from Back To The Roots is a self-cleaning fish tank that allows you to grow fresh herbs right on your kitchen counter.
Back To The Roots (BTTR) – the same company who created the at-home mushroom-growing kit you may have seen in your local Whole Foods – have expanded their product line this year to include a small aquaponics kit which they originally funded on Kickstarter.
BTTR's new Home Aquaponics Kit allows anyone to grow fresh produce with little to no effort, leaving all the hard work to mother nature. Their closed-loop ecosystem utilizes a growing technique called aquaponics, which we touched on a while back when we visited New Roots Aqua Farm in San Diego.
In addition to giving back to the community by providing them with a way to grow their own non-GMO food, co-founders Nikhil and Alejandro have also sourced a local manufacturer to produce their new product. They were proud to inform us that every AquaFarm is produced right here in California!
What is Aquaponics?
To reiterate, aquaponics is a combination of two traditional food production techniques – Hydroponics (growing plants with no soil) & Aquaculture (fish farms). We are all familiar with the two techniques, but the concept of aquaponics is based around the idea of raising fish and growing plants together in a fully integrated and soil-less system.
The fish and the plants form a beautifully symbiotic relationship in which the fish are providing the plants with a natural food source (their waste), while the plants act as a natural filter to cleanse the water the fish lives in.
Beneficial bacteria are responsible for converting the fish waste, decaying plant matter, and uneaten food into ammonia and other compounds that are consumed by the plants.
How Does It Work?
The number one benefit to the AquaFarm is that it uses no soil or chemical fertilizers; all the nutrients come from the fish! All that is required of the owner is occasional cleaning (every 1-2 weeks) and feeding the fish twice a day. However, cleaning can be kept to a minimum by simply adding a few freshwater snails to keep your tank clean.
The kit comes with everything you need to start growing – the tank, organic seeds, a starter pump, some pebbles (both as a growing medium & to line the bottom of tank), fish food, and even a coupon for 1 male beta from Petco. All you have to do is add your fish to the tank, and you are ready to grow!
Of course, you don't have to be a botanist or professional gardener to maintain the AquaFarm and produce great tasting food. BTTR has put their kits in classrooms and offices across the nation, and they are seeing a new community of aquafarmers develop right in front of their eyes.
Where Can I Get The AquaFarm?
The Back To The Roots AquaFarm is available on the Back To The Roots website for just $59.99. Best of all, the unit pays for itself in a few months time. Since we've owned the AquaFarm, we have harvested endless amounts of tasty basil and lemongrass. The basil was delicious in fresh pasta and on homemade pizza, and we ended up juicing the Lemongrass (not as tasty, but very good for you).
Other aquafarmers have grown beans, thyme, baby greens, oregano, mint, parsley, spinach and many other herbs & flowering plants. We're looking forward to experimenting with some other herbs in the future!
If you are interested in trying out an Aquaponics system of your own, Back To The Roots was kind enough to provide all of our readers with a discount code (HolidayAquaFarms10) for 10% off + free shipping on orders of $75 or more on BackToTheRoots.com.
This special offer expires on 11/30/2013!