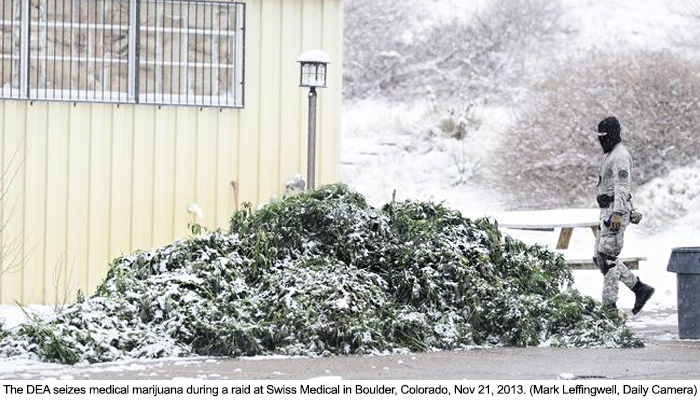 Breaking: Federal Agents Raid Medical Marijuana Facilities In Colorado
Feds Raid Colorado Dispensaries & Cultivation Facilities
Federal agents executed multiple search and seizure warrants at medical cannabis facilities in Colorado Thursday morning. The raids occurred at dispensaries and cultivation facilities in the Denver and Boulder areas.
"We hope they are sticking to their word and not interfering with any state-regulated, law-abiding businesses."– Mason Tvert
According to Jeff Dorschner, spokesman for the Department of Justice, "The Drug Enforcement Administration, Internal Revenue Service Criminal Investigations, the Denver Police Department and state and local law enforcement are today executing lawfully obtained search warrants and seizure warrants."
In his written statement, Dorschner went on to explain what he considers to be an important note. "Although we cannot at this time discuss the substance of this pending investigation, the operation under way today comports with the Department's recent guidance regarding marijuana enforcement matters," he wrote.
Feds Investigating Colorado Medical Cannabis Facilities
In August, the Department of Justice released a memo intended to reduce confusion about their plans to enforce federal cannabis policy. The majority of the memo mirrored past DOJ statements, but it outlined 8 federal priorities with regard to cannabis enforcement. They are as follows:
Preventing the distribution of marijuana to minors
Preventing revenue from the sale of marijuana from going to criminal enterprises, gangs, and cartels
Preventing the diversion of marijuana from states where it is legal under state law in some form to other states
Preventing state-authorized marijuana activity from being used as a cover or pretext for the trafficking of other illegal drugs or illegal activity
Preventing violence and the use of firearms in the cultivation & distribution of marijuana
Preventing drugged driving and the exacerbation of other adverse public health consequences associated with marijuana use
Preventing the growing of marijuana on public lands and the attendant public safety and environmental dangers posed by marijuana production on public lands
Preventing marijuana possession or use on federal property
Mason Tvert, Communications Director of the Marijuana Policy Project, made a statement noting that he does not know what inspired the raids.
"The Justice Department said it would respect states' rights to regulate marijuana, and that it would not go after businesses as long as they are complying with state laws," he explained. "We hope they are sticking to their word and not interfering with any state-regulated, law-abiding businesses."
Reports from the Denver Post, The Daily Camera, and Westword suggest that VIP Cannabis in Denver, Swiss Medical in Boulder, and marQaha were each among the businesses raided Thursday morning. It is expected that more raids are to come throughout the day.