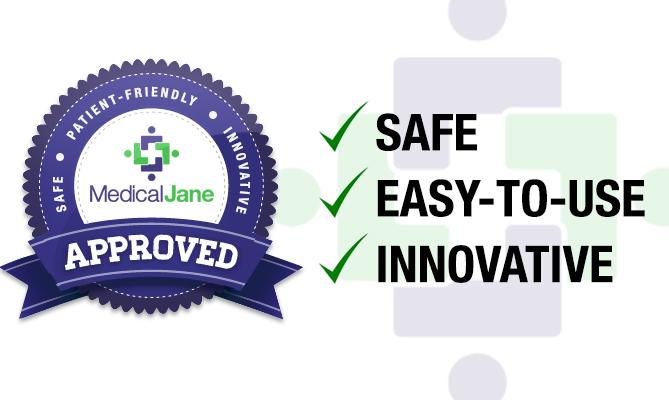 Medical Jane Unveils New Seal Of Approval To Recognize Safe, Innovative Products In The Legal Cannabis Industry
Medical Jane, LLC, a leading technology company in the cannabis industry, introduces a prestigious badge for industry-leading products to help consumers make educated purchasing decisions.
Los Angeles, CA — Medical Jane, LLC, a digital resource focused on pushing the cannabis industry forward, has granted their first official product seal of approval to VapeXhale for their recent release of the Cloud EVO.
"VapeXhale is EXTREMELY proud to be awarded the MJ Seal of Approval. As a company that promotes safe medical cannabis use, we know that it is difficult for new vaporists to decide which is the best/healthiest device to purchase," says company Founder and CEO, Seibo Shen.
"With this new safety seal, people can rest assured that many experts have vetted a particular device for its efficacy and safety," Mr. Shen goes on to say.
Elaborating on this thought is Matthew Price, Founder and CEO of Medical Jane, who says the MJ Seal of Approval was created to prepare for the influx of new ancillary products making their way into the developing industry.
"We have taken the necessary steps to make purchasing decisions easier for customers — especially those looking to get into the cannabis industry for the first time," Mr. Price explains. "Education comes first and foremost for us, and I believe it shouldn't stop during the purchasing process."
According to him, "the MJ Seal of Approval is designed to help highlight and promote only the healthiest products. Companies that have taken the extra steps to ensure a quality product for the end-user can apply for the seal. If accepted, they may display the badge proudly across their website, social networks, product packaging, etc…"
Mr. Price goes on to explain that the inception of the MJ Seal of Approval will help people easily identify cannabis-related ancillary products that are safe, easy to use, and of the utmost manufacturing quality.
"By rewarding products that meet our high standards, we hope to encourage others to keep pushing the legal cannabis industry forward," says Mr. Price.
About Medical Jane, LLC
Medical Jane is a multi-faceted resource that empowers medical marijuana patients and cannabis activists with industry news, information about strains, companies, events, and influential people in the industry. The site implements a number of tools, serving as a platform to bridge the gap between patients, cultivators, and everyone in between.