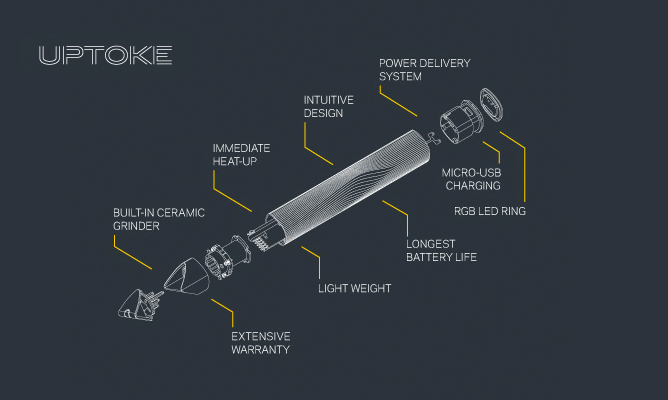 UpToke: Startup Bringing Innovation To Vaporization Technology
You often will hear our team here at Medical Jane complain about the excessive amount of portable vaporizers on the market that are essentially the same thing rebranded. Needless to say, we've been anxiously waiting to find a new, unique portable vape.
While we have yet to come across this ever-elusive ideal, it seems that we can almost see the light at the end of the tunnel. A new generation of portable vaporizers is upon us, and the upcoming release of the UpToke SPYRE looks to be yet another step in the right direction.
UpToke: Silicon Valley Meets Humboldt County
In 2010, UpToke founder and CEO Jason Levin journeyed to California from the East Coast. E-cigarettes were just beginning to gain popularity for their nicotine applications, and he soon began designing e-cig adaptations tailored toward cannabis consumption.
However, some quick research revealed that the market was becoming saturated with essential oil vaporizers. Realizing that people wanted an effective portable vaporizer for dried flowers, the concept of the SPYRE was born.
Leveraging his background in engineering and material science, Levin set out to develop a portable vaporizer that would make UpToke stand out from the crowd. His angle: an intuitively designed portable vaporizer for solid plant matter.
"We are not just here to make a quick buck. We're embedded in this community." – Jessica Riley
The SPYRE was designed for its ease of use. As Levin puts it, they did not want to force the public – primarily baby boomers who have smoked in the past – to retrain themselves in order to use the device.
Levin recruited Jessica Riley to oversee operations at UpToke. She brought a great deal of experience with event planning and startup development to the table, as well as a deep connection to the industry. Rounding out UpToke's core team is Wendy Christensen, who has adopted the role of community curator.
According to Riley, the corporate culture at UpToke is another thing that sets them apart from other vaporizer companies. "We're not just here to make a quick buck," she explains. "We're embedded in this community."
Riley goes on to say that UpToke builds their company through long term relationships, and that they hope to inspire A-list talent to make the jump into the developing cannabis industry – especially women.
In fact, she touched on a few of these topics a few months ago in her columns, "Inspiring Top Talent Into The Legal Cannabis Industry" and "Women Could Help The Legal Cannabis Industry Evolve, Grow As Professionals".

UpToke: Vaporizer Company With A Long Term Vision
It has been nearly four years since the journey began for UpToke. They took on seed funding from angel investment in 2013, and the company is currently raising another round to meet distributor demand for the SPYRE.
According to Levin, the hardest part thus far has been the feeling that they're "herding cats" at times. He explains that they have to operate as smoothly as a bigger company would, but their team must work 10 times as hard to "make things happen" as a startup.
Of course this can be a common occurrence for any startup, and Levin touches on the topic in his column, "Ten Tips For Raising Startup Funding In The Cannabis Industry".
Pre-orders for the SPYRE are set to go out later this month, signaling UpToke's official launch. However, their work will be far from complete once that time rolls around.
"We are not trying to make one thing and walk away." – Jessica Riley
Riley explains that they are already anticipating ways that they could potentially improve the SPYRE. For instance, they have plans to release a cartridge system for use with essential oils later this year.
Furthermore, UpToke plans to develop sophisticated, high-end vaporizers for years to come. "We're not trying to make one thing and walk away," Jessica Riley goes on to say.
It's this devotion to the cannabis industry that I believe will help UpToke find success through the years. But more importantly, their team recognizes the role that they can play as ambassadors for the cannabis industry. They view the current political environment as a perfect opportunity for them, and other industry leaders, to help change public perceptions about cannabis.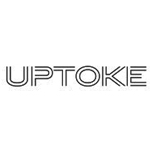 UpToke
UpToke is the designer of a new vaporizer. They implement innovative technology to replicate the simple and satisfying experience of smoking tobacco in a healthier, more modern, and fully portable way.UpToke began taking pre-orders for …