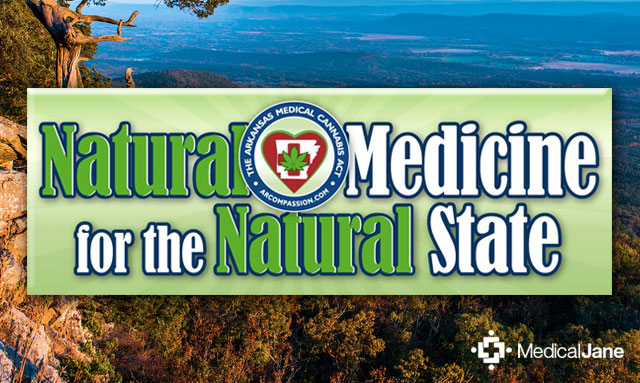 Cannabis: Natural Medicine For The Natural State
Activists in Arkansas are looking to make their state the next to legalize medicinal cannabis. Unlike other southern states, they are not taking a CBD-only approach, but are fighting to allow whole-plant cannabis.
Medical Jane spoke with Melissa Fults, who runs Arkansans for Compassionate Care, about the upcoming Arkansas medicinal cannabis initiative.
Details of the Arkansas Initiative
The medicinal cannabis production and distribution system that would be created from the Arkansas initiative is strong and comprehensive. Fults said they tried to think of everything to allay the fears of opponents, while providing a framework for quality care of patients.
The initiative's dedication to optimal care is reflected in several unique attributes. For example, instead of being called dispensaries, distribution points will be known as "cannabis care centers."
There is also an affordability clause, which would enable patients with low-incomes to save money on fees. Patients could possess up to two and a half ounces of cannabis, as well as purchase that quantity every two weeks. All patients, cannabis care center workers, and testing labs would be legally protected.
To become a patient, an individual must be diagnosed with any one of over 50 qualifying medical conditions. Arkansans for Compassionate Care determined the qualifying conditions list by adding those from other state laws. The initiative also allows patients from other states to visit Arkansas and get temporary licenses so they can purchase cannabis from cannabis care centers.
The only serious drawback to the initiative, which was included out of necessity, is that not all patients can grow their own cannabis. Only those who live more than 20 miles from a cannabis care center will be permitted to grow, and they must undergo regular inspections to ensure they do not exceed the 10 plant limit (which includes 5 mature plants and 5 seedlings). Overall, the law is very versatile and should ensure safe access for everyone who needs it.
The Process to Legalization
In 2012, the Arkansans for Compassionate Care initiative came within a few thousand votes of winning. More than 500,000 people voted for Issue 5 in 2012, and it narrowly lost by less than 1.5%.
"In 2012, we came within a few thousand votes of establishing a medical cannabis program in Arkansas. More than 500,000 people voted for medical cannabis." – Mellisa Fults
Fults believes 2016 will be the year of success. Her organization started collecting signatures in December 2014, and already has 14,000 of the 68,000 required signatures. In case some of the signatures get voided, Fults is aiming for a healthy 75,000 signatures. The signatures must be submitted by July 2016 for the initiative to make the November 2016 ballot.
This issue is personally important to Fults. Her son was prescribed opiates for 13 years due to a car accident, and she saw the negative impact pharmaceuticals had on him. She knows that medicinal cannabis is a viable alternative to opiates, and wants this medicine available to all chronically ill patients. For this reason, she has fought for years to amend the laws in Arkansas. At the rate national opinions on medicinal cannabis are changing, and due to the near success of 2012's initiative, it is almost certain the 2016 initiative will pass.