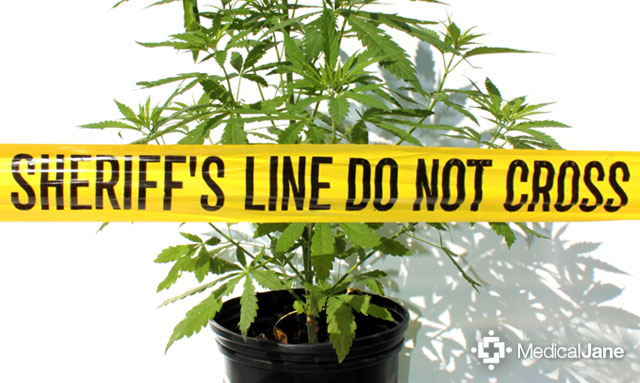 Jesse Teplicki Not Guilty Verdict in Historic Medical Cannabis Trial
On Monday, March 2, 2015, Jesse Teplicki became the first person in Florida history to be acquitted of a cannabis-related criminal charge by a jury because of medical necessity.
Teplicki, 50, has battled anorexia since age 9, and cannabis has been the only medicine that effectively alleviates his condition. His acquittal is legal history in Florida and may influence future decisions by prosecutors and juries.
Jesse Teplicki's Arrest
In January 2013, Teplicki was arrested by the Broward's County Sheriff's Office for growing cannabis. He faced up to five years in prison for cultivating 46 cannabis plants.
Teplicki asserted that the plants were intended for medicinal use. He said cannabis is the only thing that controls his severe anorexia, which causes nausea and appetite suppression. Pills don't work because he can't keep them down.
As for the high plant count, Teplicki was in possession of so many at once because he only grows once a year.
Jesse Teplicki's Trial
Teplicki's trial was remarkably straightforward and timely. Kathleen O'Brien, one of the prosecutors, attacked Teplicki from several angles, questioning his medical history and the need for high quantities of cannabis. She said he had no treatment plan and his medical records were outdated. However, Teplicki's defense attorney Michael Minardi, along with the defendant himself, successfully convinced the jury to rule compassionately.
It is undeniably remarkable that Teplicki succeeded in this case. As the prosecutor pointed out, he did not have a traditional qualifying condition like cancer, AIDS, or epilepsy. Teplicki also was growing an extraordinary number of plants, which were displayed in a large bag during the trial.
The odds seemed stack against him, but the jury recognized that pain and hardship come in various forms. They rightfully acquitted Teplicki for using the only medicine that enabled him to live a normal life.
"Here's somebody who's really had a lot of issues, a lot of suffering since he's nine years old. Everything was justified," said juror Mark Munzer. "In this circumstance, he found what helps."
Teplicki was understandably elated when he heard the not guilty verdict, and is happy for both himself and the other patients this case could help. "I hope that this goes ahead and invigorates the state of Florida and all people who are being charged with cannabis to fight," said Teplicki.
Ramifications of the Trial
As Keith Jones of NBC6 stated, it will take time to see what kind of medicinal cannabis precedent this case sets.
"This is an historic decision in the state of Florida." – Michael Minardi, defense attorney
Minardi also elaborated on the potential ramifications of the verdict. "This is an historic decision in the state of Florida. Hopefully prosecutors heed the decision and are less likely to prosecute this kind of case in the future." Indeed, if the culture changes enough to where juries are regularly throwing out medicinal cannabis cases, there will be no point in prosecutors even trying. Hopefully, this kind of environment is where Florida and the entire United States is headed.