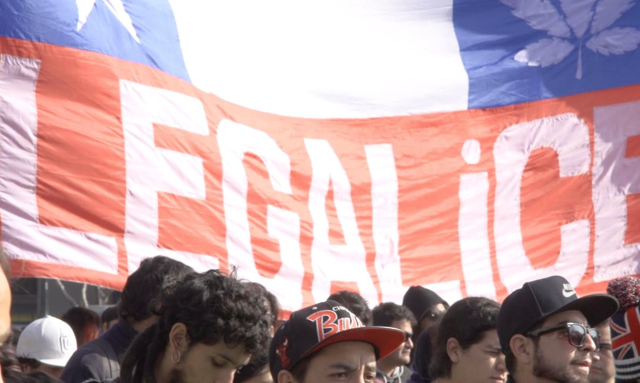 Green Medicine: New Documentary Highlights Chile's Medical Cannabis Revolution
A new documentary follows the extraordinary journey of the Daya Foundation, a group which made international headlines in 2014 by becoming Latin America's first legal medical cannabis plantation. Green Medicine: Chile's Medical Cannabis Revolution had its premiere at Expo Weed in Santiago in November and is released online to the world on December 15th.
In September 2014 the Daya Foundation, a Chilean charity, received Government authorization to grow 400 cannabis plants to use as treatment for medical patients in a district of the country's capital, Santiago. The publicity surrounding the project prompted huge debate in Chile in the months that followed.
For 6 months, director Diego Estay, and his team of film makers, followed the progress of the Daya Foundation project. In October, Daya got the green light from the Chilean government to expand the project with 6000 more plants.
"We were very pleased to have the opportunity to be involved with telling Daya and Chile's story through Diego's film." – Luc Krol of Paradise Seeds
Green Medicine focuses on Daya's first grow, between September 2014 and April 2015, and the scientific research surrounding medical cannabis. The marijuana documentary features interviews with scientists, politicians, and the medical patients that will benefit from its legalization. This includes Emilia, a young child recovering from a brain tumor that would greatly benefit from the legalization of cannabis in Chile.
What Daya is doing is revolutionary. Unlike big pharma, which attempts to monetize cannabis-based medicine, Daya is a charity that works with the local community. The cannabis oil it produces is for distribution to local patients. "I think this film reflects the changes happening in Chile and a global awakening in people in general," said Diego.
"Medical marijuana crosses the political, social and economic layers of society." – Diego Estay, Program Director
"People are becoming more empowered. In Chile, the likes of Daya Foundation and a number of forward looking politicians are forcing attitudes and policy to change. Medical marijuana crosses the political, social and economic layers of society."
Luc Krol, from Paradise Seeds, who produced the film said, "We knew from the beginning that the Daya Foundation project was something special. We were very pleased to have the opportunity to be involved with telling Daya and Chile's story through Diego's film."