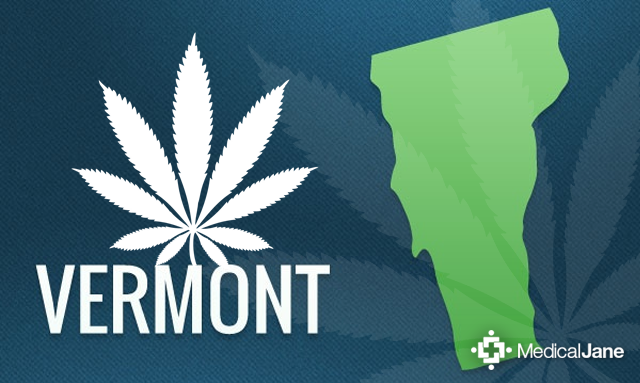 Will Vermont Be The Next State to Fully Legalize Marijuana?
MONTPELIER, VT — Vermont Governor Peter Shumlin and the chairman of the Senate Judiciary Committee, have announced legislation "to cautiously and deliberately" legalize cannabis for adult-use in Vermont.
The proposed bill would remove the civil penalties for possession of an ounce or less of marijuana for those over 21 in the state of Vermont. However, the bill also suggests enhanced penalties for people over 21 who furnish alcohol or marijuana to minors.
"The war on drugs has failed when it comes to marijuana prohibition." – Governor Shumlin
Cannabis lovers in Vermont: Do not get too excited. The bill does have some short-term down sides… For starters, it doesn't look like Vermonters will be able to walk into a dispensary and grab an infused chocolate bar or those medicated coffee beans any time soon. Under the proposed bill, the sale of edibles would be prohibited "at first," with no mention of when edibles would be okay to process and vend. This makes little to no sense from a health perspective, as the research heavily favors ingesting the cannabis plant vs. smoking it, to avoid inhaling any unwanted carcinogens.
The bill also includes a special tax on marijuana sales that would be used to help pay for drug addiction programs across the state, as well as significantly increase funding for more VT state troopers. According to the Governor, "The tax imposed must be low enough to wipe out the black market and get rid of the illegal drug dealers."
Gov. Shumlin, a Democrat, said the proposal meets criteria he outlined in his State of the State address, including strengthening law enforcement capacity to respond to drugged drivers and keeping cannabis out of the hands of children.
Some advocates are worried that this bill sends the wrong message to the public about the safety of cannabis in the hands of minors. Many of the points used by Gov. Shumlin and Sen. Richard Sears to push the bill are modern day scare-tactics to establish a need for their bill, rather than focusing on the obvious upsides to the economy and overall health benefits of consuming cannabis vs. other drugs. The fact of the matter is, a plethora of evidence exists to support certain cannabinoid-based medicines that are not psychoactive (such as THCa, CBAa, etc.) are safe for consumption by children, babies, and even mothers during pregnancy.
"The war on drugs has failed when it comes to marijuana prohibition," Shumlin said in a statement on the governor's website. "Under the status quo, marijuana use is widespread, Vermonters have little difficulty procuring it for personal use, and the shadows of prohibition make it nearly impossible to address key issues like prevention, keeping marijuana out of the hands of minors, and dealing with those driving under the influence who are already on Vermont's roads. The system has failed…" Shumlin continues.
"The question for us is how do we deal with that failure. Vermont can take a smarter approach that regulates marijuana in a thoughtful way, and this bill provides a framework for us to do that."