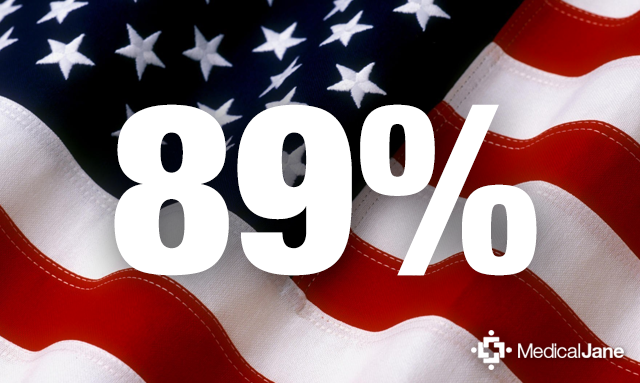 89% of Americans Now Support Medical Marijuana, New Poll Finds
Nearly 90% of Americans support allowing medical marijuana use if prescribed by a doctor, according to the latest findings from a Quinnipiac University National poll released Tuesday. Among those surveyed, 54% also support the full legalization of marijuana use in the United States.
Support for medical marijuana crossed party lines and demographic groups. The lowest level of support per demographic surveyed was among Republicans, where 81% of of those surveyed favor allowing medical marijuana. Ninety percent of Democrats support medical marijuana, as do 92% of independents.
"Ninety percent of Democrats support medical marijuana, as do 92% of independents."
Voters also support allowing doctors at the Veterans Administration hospitals to prescribe medical marijuana in pill form to military veterans suffering from post-traumatic stress disorder in states where medical marijuana is legal. Of those surveyed, 87% were in favor and only 9% were opposed.
When it comes to legalization of marijuana use in general, 54% support the idea, with 41% opposed. Men are more likely to support legalization than women, with 60% of men in favor (37% opposed) but women more or less split, 48% in favor and 46% opposed.
This poll is just the latest to demonstrate that the majority of politicians are behind the times with their position on marijuana. While vast majorities of Americans support medical marijuana despite federal classification of cannabis as a Schedule I substance, there remains an overall reluctance in the federal government to loosen marijuana laws on a national level.
The survey was conducted by Quinnipiac University, a leading national polling center, from May 24-30. The survey of 1,561 registered voters nationwide has a margin of error of +/- 2.5 %.
Full poll results can be found here.
Citations & References
There are 1 references in this article. Click here to view them all.