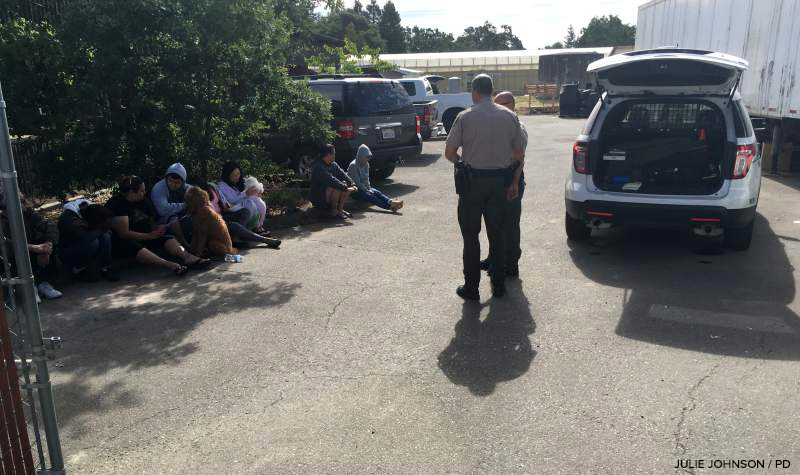 BREAKING: DEA Raids Major MMJ Companies in Northern California
UPDATE – 6/16/16 @ 10pm
The founder of Care By Design, Dennis Hunter, was released from Sonoma County jail tonight on no bond and with no charges. His family thanks all of the medical marijuana patients, caregivers, and industry activists who stepped forward and showed their support. "This fight is not over but it is definitely swaying," says Mr. Hunter's son.
---
UPDATE – 6/15/16 @ 9pm
One of the organization's founding patient members was arrested and charged with felony for manufacturing a controlled substance by chemical extraction (a law created for meth labs); and is being held on a $5-million-dollar bond in Sonoma County jail. The organization, their supporters, and local medical cannabis advocacy groups are organizing a press conference and rally of support on Thursday, June 16th at 11:00 a.m. at the courtyard area of the Sonoma County Superior Courthouse to raise awareness for this injustice and to inform the community of the facts regarding the company and their professional operations.
They are asking for all patients, providers, and supporters of medical cannabis to join them in voicing their concerns about this wasteful and unnecessary enforcement action by the DEA and local authorities, and stand with them in solidarity to end these types of actions once and for all. Overzealous enforcement against compliant and accountable medical cannabis providers, such as Care By Design, have no place in our society.
---
ORIGINAL RELEASE
While federal agents from the Drug Enforcement Administration looked on, police officers in Santa Rosa, California coordinated raids on a half-dozen properties associated with a local cannabis oil producer on Wednesday morning, prompting an immediate outcry from the cannabis community statewide.
Multiple law enforcement agencies from Sonoma County, including Santa Rosa Police, were involved in the coordinated attack on Care By Design and AbsoluteXtracts, award-winning Northern California medical marijuana producers who make precision-dosed extracts. Among the properties raided were a nursery, a well-known laboratory, and multiple residences.
The Drug Enforcement Administration was present at the raids in an observational role, the Press Democrat reports. At least nine people were detained during the raids, although it is unclear if any arrests were made.
CBD lab at a Santa Rosa biz park raided in coordinated searches of at least four biz properties and homes #cannabispic.twitter.com/HsBrpauhNX

— Julie Johnson (@jjpressdem) June 15, 2016
The raids prompted an immediate reaction from California's medical marijuana community.
"RAID ALERT! Raid underway on Care By Design / AbsoluteXtracts in Sonoma county (right now) need help from communty [sic] for support," wrote the San Diego chapter of patient advocacy group Americans for Safe Access in a Facebook post this afternoon.
Longtime marijuana activist and author Mickey Martin, a victim of DEA raids in 2007, said the companies that were raided Wednesday are reputable.
"I have worked with this group and can ensure you that they are as compliant, if not more compliant, than nearly every company in this industry," Martin wrote in a Facebook post. "[T]he ramifications of such an action could send shockwaves [sic] through this industry if we do not respond with forceful direct action and protest."
A spokesperson for Care By Design said that they are a legal business and have been working with state regulators to "set the gold standard" for how concentrated cannabis manufacturing.
"We produce medicine as determined by the voters in the 1990s, and we do it with the best practices of any company in the state," Nick Caston told the Press Democrat.
Caston added that they suspect a disgruntled former employee made a false complaint to law enforcement, prompting an investigation that led to the raids. According to the Press Democrat, the Sonoma County District Attorney's Office began the investigation several days ago after receiving "information that made officials question the legality of the business."
A spokesperson for the Santa Rosa Police Department said that detectives believe the businesses were being run "outside the law and city codes," the Press Democrat reports.
"We have planned for this type of situation and are fully confident in our ability to resolve this matter expeditiously with minimal disruption to the business." – Care By Design Representative
"They've done nothing official that we could find that makes any of this a legitimate operation," Santa Rosa Police Lt. Michael Lazzarini said.
Care By Design released the following statement late Wednesday in response to the raids:
"Care By Design has worked tirelessly over the past year to ensure that all of our facilities, employees, company policies and procedures are in compliance with city, county and state laws. We have planned for this type of situation and are fully confident in our ability to resolve this matter expeditiously with minimal disruption to the business. We hope to resolve this before it affects our thousands of patients throughout California."
California voters legalized medical marijuana in 1996, approving Proposition 215 in a 55% to 44% vote. The state's medical marijuana industry went relatively unregulated statewide until 2015, when a new state law regulated the billion-dollar industry for the first time.
Those regulations started taking effect in October and will be fully implemented by 2018, leaving many in California's medical marijuana industry working in a grey area.
Sonoma County, where the raids took place, is home to a large cannabis extraction industry because of the access to significant sources of raw cannabis grown in California's "Emerald Triangle" combined with local expertise.