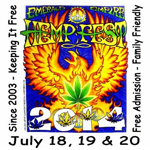 About this Event
The purpose of the Emerald Empire Hempfest is to unite our citizens in calling for sweeping reforms in America's laws against cannabis and hemp.
This is a uniquely valuable plant: it provides high levels of key nutrients, relieves symptoms for patients suffering from an array of medical conditions, and can be made into environmentally positive products such as clothing, paper, paint, biodegradable plastics, and replacements for fossil fuels.
The 2014 Emerald Empire Hempfest will be held July 18-20 at Maurie Jacobs Park in Eugene, Oregon. Admission to the event is free.
You can learn more about the event at their website: http://www.emeraldempirehempfest.com/.