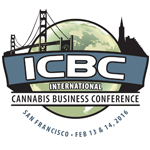 About this Event
With California on the verge of legalizing cannabis in 2016, all eyes will be on the Golden State as the legal cannabis industry will be poised to fully enter the eighth largest economic market in the world. The International Cannabis Business Conference (ICBC) returns to San Francisco in 2016, on February 13th-14th, showcasing industry experts from around the globe, creating an exceptional educational, networking and advocacy event. The two-day ICBC experience includes the latest business, legal, political and cultural information while also providing cutting-edge parties conducive to serious networking and having a blast.
Whether you are a grower, processor, dispensary operator, own an ancillary business, freedom fighter, or are just thinking about entering the cannabis industry, you are welcome at the ICBC. Attendees will learn from those with success on the ground in commerce, politics, art and activism, learning important business tools as well as how to best improve and protect our marijuana laws. This event is for adults 21 and over.
You can learn more about the event at their website: http://www.internationalcbc.com/.
Event Hours
SUN FEB 14

8:30 AM

- 5:30 PM

SAT FEB 13

8:30 AM -

5:30 PM
In The News
U.S. Surgeon General to Headline San Francisco Marijuana Conference
Former U.S. Surgeon General Joycelyn Elders will headline the International Cannabis Business Conference on Feb. 13 and 14 in downtown San Francisco. She'll be joined by Andrew Sullivan, a prominent author and blogger; Tommy Chong, star of the Cheech & Chong movies; Arjan Roskam, who started the "Strain Hunters" documentary series; and Anthony Johnson, the executive director of Oregon's successful campaign to legalize marijuana. "Business and Politics" is the theme of the conference, which comes as several legalization initiatives vie for a spot on the state's November ballot. California has a …