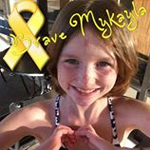 Biography
Mykayla Comstock was diagnosed with intermediate risk T-Cell acute lymphoblastic leukemia on July 14th, 2012, at 7 years old. She is also Oregon's youngest Medical Cannabis Patient.
Brave Mykayla Comstock wants to help change how childhood cancer is approached. Mykayla uses cannabis as medicine. She began using whole extract cannabis oil to help her leukemia go into remission. Now she continues to use cannabis to help mitigate the debilitating effects of her required chemotherapy protocol, successfully.
It should be noted that Mykayla does not smoke or even vaporize cannabis. Instead, she consumes full extract cannabis oil, raw organic cannabis juice (non-psychoactive), infused agave nectar, medibles, lotions, soaps and salves.
Mykayla and her family want to speak out, spread the word, raise awareness and let everyone know that Cancer Doesn't Have to be So Scary! In turn, they can be found speaking about the benefits of medical marijuana in various educational panels and seminars.