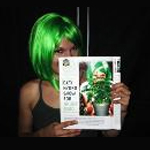 Biography
Nebula Haze is a founder and co-owner of GrowWeedEasy.com, a published author for Skunk Magazine, and the head writer for the GrowWeedEasy.com weekly inbox magazine, which delivers a new cannabis growing article by email every Sunday. Nebula Haze has been a medical cannabis patient since 2004 and is an expert in the field of growing cannabis indoors for medical patients, and currently teaches new growers how to grow a personal amount of cannabis at home in just a few minutes a week.
Nebula Haze is originally from San Francisco, Ca and has lived in California her whole life. She was diagnosed with adult-onset epilepsy in 2004, and because of her California residency status (and thanks to the caring support of her neurologist) she was able to get a recommendation for medical cannabis. She is currently using edible cannabis hash oil (Rick Simpson oil) to prevent seizures. In response to the positive results Nebula was getting from medical cannabis, Nebula decided she needed to teach others how to grow this incredible plant at home.
In April 2010, Nebula founded GrowWeedEasy.com to teach other medical cannabis patients how to grow cannabis at home in a spare room or closet. In April 2012, Nebula began publishing a free weekly inbox magazine that delivers a new growing article to growers every Sunday at 4:20am ET.