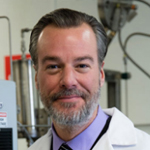 Biography
Steven Bennett, Ph.D. is a molecular biologist with a background in transdermal drug delivery. He serves as Managing Scientific Director for Evolab, leading the Medical Advisory Board and Incubator. In this role he sources and develops new products, ensuring their scientific and technical rigor. His scientific career has focused on the molecular biology of disease, especially Alzheimer's disease and cancer. Bennett holds two patents and has published several papers in peer-reviewed journals.
Companies
Evolab
Managing Scientific Director
Evolab created the world's first suite of cannabis specific pharmaceutical-grade extraction technologies. We produce exceptionally pure oils, without the use of any cutting agents. Our proprietary technology is designed to preserve the compounds of the whole plant, because we know it takes all the elements in cannabis to make THC great.